The Neustadt quarter in Strasbourg is a former urban laboratory of the German Empire in Strasbourg. The area is full of beautiful architectural places where various influences are mixed.
The imposing Wilhelmian buildings on Place de la République - built in the purest Germanic neo-renaissance style - stand alongside buildings and villas in neo-Gothic, Art Deco, Art Nouveau and Rococo styles. Among the buildings of this period, one of them stands out and makes us travel to Egypt. It's not so far from the Avenue des Vosges.
An Egyptian façade on rue Rapp
Built in 1905, the façade of the Egyptian house of Strasbourg is eye catching. Its colors are bright : blue, green, gold and red intertwine. The motifs of figures from ancient Egypt are mixed with Jugendstil forms (the German counterpart of Art Nouveau).
The building was designed by the architect Franz Scheyder, whose buildings are often characterized by a very personal style with a lot of audacity and eccentricity. His collaboration with the painter Adolf Zilly for this facade marks this boldness even more.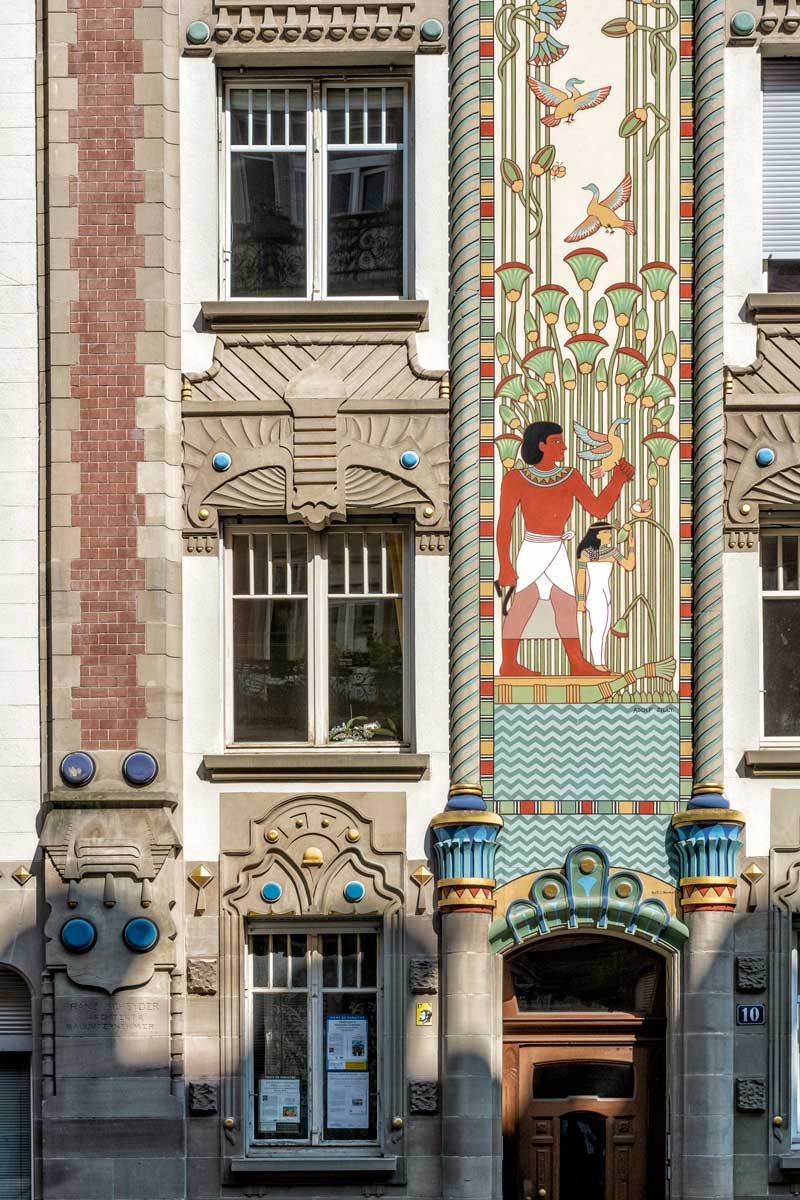 A pharaoh, his wife and some ducks
The artist signed in fifteen days a monumental decoration which starts from the entrance door framed by two columns. These 2 columns evoke closed papyrus. Higher up, the fresco evokes a hunting scene. It shows a pharaoh holding a duck in his left hand and a heqa scepter in his right. Behind the pharaoh, his wife leans toward a branch of papyrus to smell it.
This scene is surmounted by straight papyrus trees, birds, butterflies in flight, and at the top, the vulture-goddess Nekhbet spreading her wings. On either side of the large central fresco, the windows are topped with decorations carved in stone or with pretty balconies representing bats with open wings.
The whole facade was first restored in 1995 and again in 2010.
Other frescos to discover in Schiltigheim and at the CEAAC
We find a joint realization of the architect Franz Scheyder and the painter Adolf Zilly on the facade of 30 rue principale in Schiltigheim. This time it is a snake in a varied symbolist decor.
In Strasbourg, the interior decoration of the Centre d'Actions Artistiques et Contemporaines (CEAAC) is also signed Adolf Zilly. You can admire his paintings on the posts on the first floor and on the ceiling upstairs.