If you're a lover of good food, you'll love going to Strasbourg! There are plenty of restaurants and it's really enjoyable to eat there. Whether you're into fast food or gastronomic restaurants, you'll find a nice place to eat at in Strasbourg. Besides, you'll be able to taste our delicious tarte flambee! There are some very good addresses... but also some real tourist attractions. Find out about my small selection of 10 restaurants that I recommend to you.
I'm going to share with you some of my favorite addresses. Don't expect a gastronomic review from me, nor an indisputable list of the best restaurants in Strasbourg. I am far from being a specialist. On the other hand, I am a gourmet and I offer you a very personal selection, tested and approved.
Do you eat gluten-free? I invite you to read my dedicated article with my best gluten-free bakeries.
Le Kammerzell, the unmissable fish sauerkraut
Right next to the cathedral, in the oldest house in Strasbourg, the maison Kammerzell is an institution. You just have to look at the portraits of the many personalities displayed on the spiral staircase to realize it. Why is the maison Kammerzell so successful? Not only have they an exceptional setting with a beautiful view of the cathedral, but also are they known for their famous fish sauerkraut created by Guy-Pierre Baumann.
On the menu, you will find other specialties of Alsatian or French cuisine such as the baeckeoffe with three meats or the chicken fricassee Coq au Riesling. During the off-peak period (January-April), the Kammerzell house offers its traditional promotion: one free fish sauerkraut for every one purchased. That's when I enjoy it the most 🙂
Those courses may not sound familiar to you, but I promise you, it's worth tasting!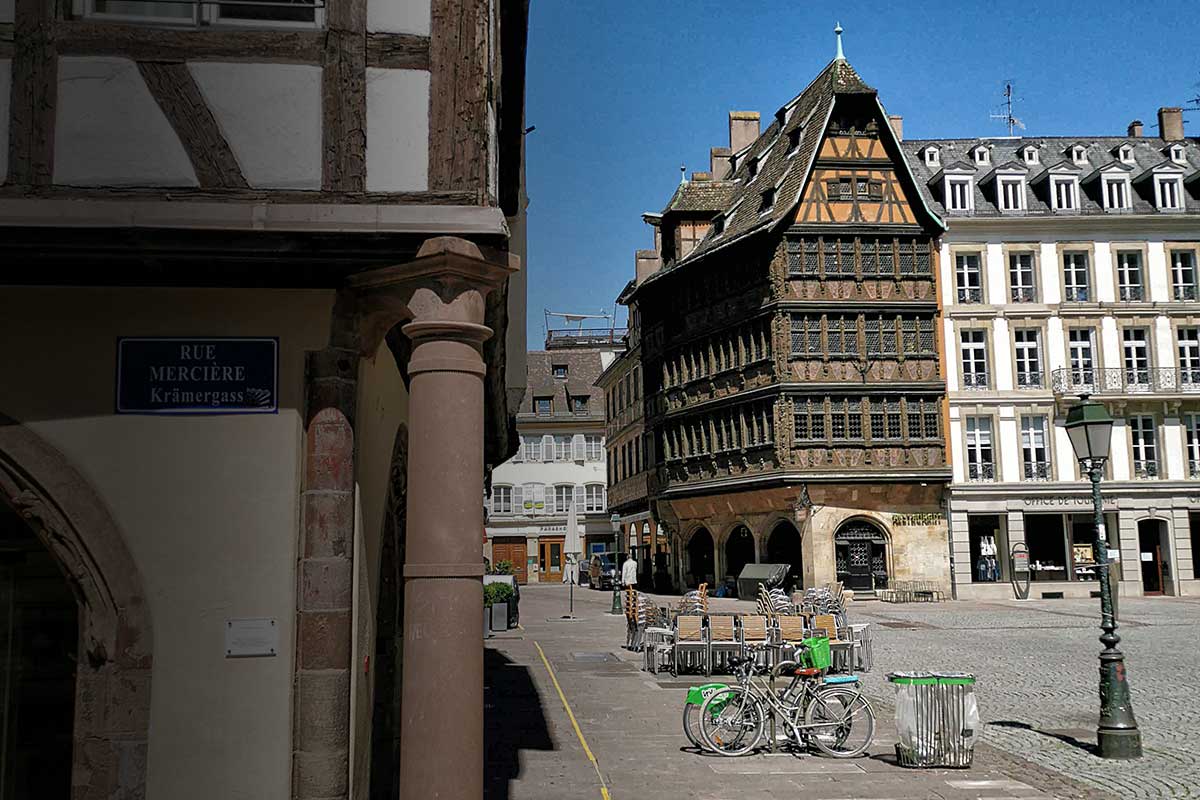 A very good alternative: The restaurant l'Ami Schutz in Petite France district also offers an excellent fish sauerkraut as well as an exceptional terrace on the waterfront overlooking the Covered Bridges (les Ponts Couverts!).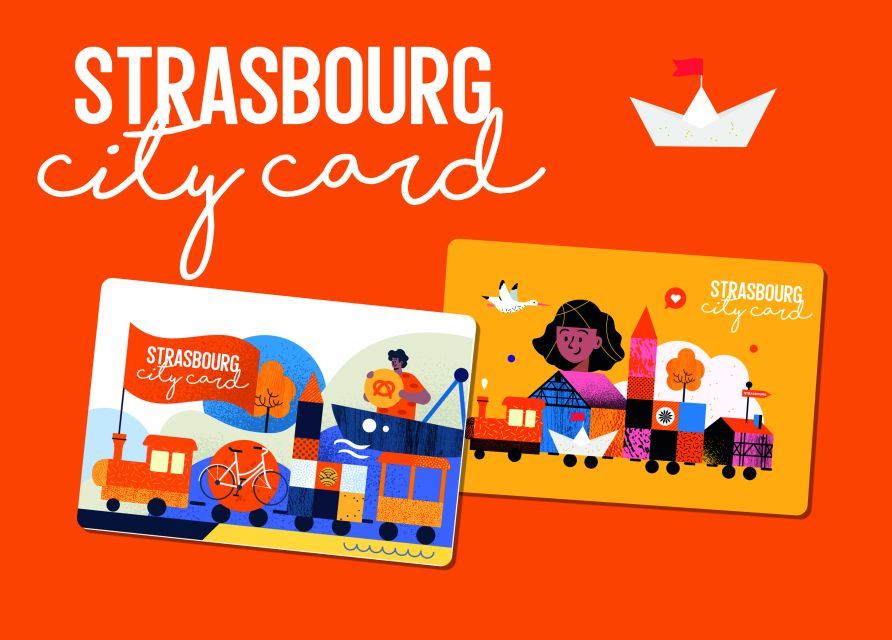 Strasbourg City Card - 7-Day City Pass
Explore Strasbourg with a 7-day city pass that offers discounted rates for attractions and activities. Climb up the Strasbourg Cathedral, take a guided walking tour, or visit the Château Vodou Museum.
Get the Strasbourg City Card
Le Tire-Bouchon, the typical Alsatian restaurant
The Tire-Bouchon is located near the cathedral of Strasbourg. It's a good Winstub (a traditional wine bar-restaurant specific to Alsace😉). This restaurant is quite discreet among the tourist traps that surround it. There, you can taste traditional Alsatian cuisine: royal sauerkraut, braised pork knuckle with munster cheese (yummm!), salmon trout on sauerkraut...
I particularly appreciate the many small rooms that can be privatized for a group meal with friends or family.
Another good winstub : Au Pont du Corbeau. Authentic setting, traditional Alsatian cuisine and large tables as in the past.
La Corde à Linge, the popular terrace of Petite France
Facing the Tanneurs house in the heart of Petite France, the Corde à Linge restaurant seems to be a tourist trap. However, its huge terrace on the waterfront is particularly appreciated by the inhabitants of Strasbourg who come to taste the traditional Alsatian pasta: the spatzle (pronounced "chpètzeuleu"). I do have a weakness for the ones cooked with cream and bacon or the ones with munster cheese.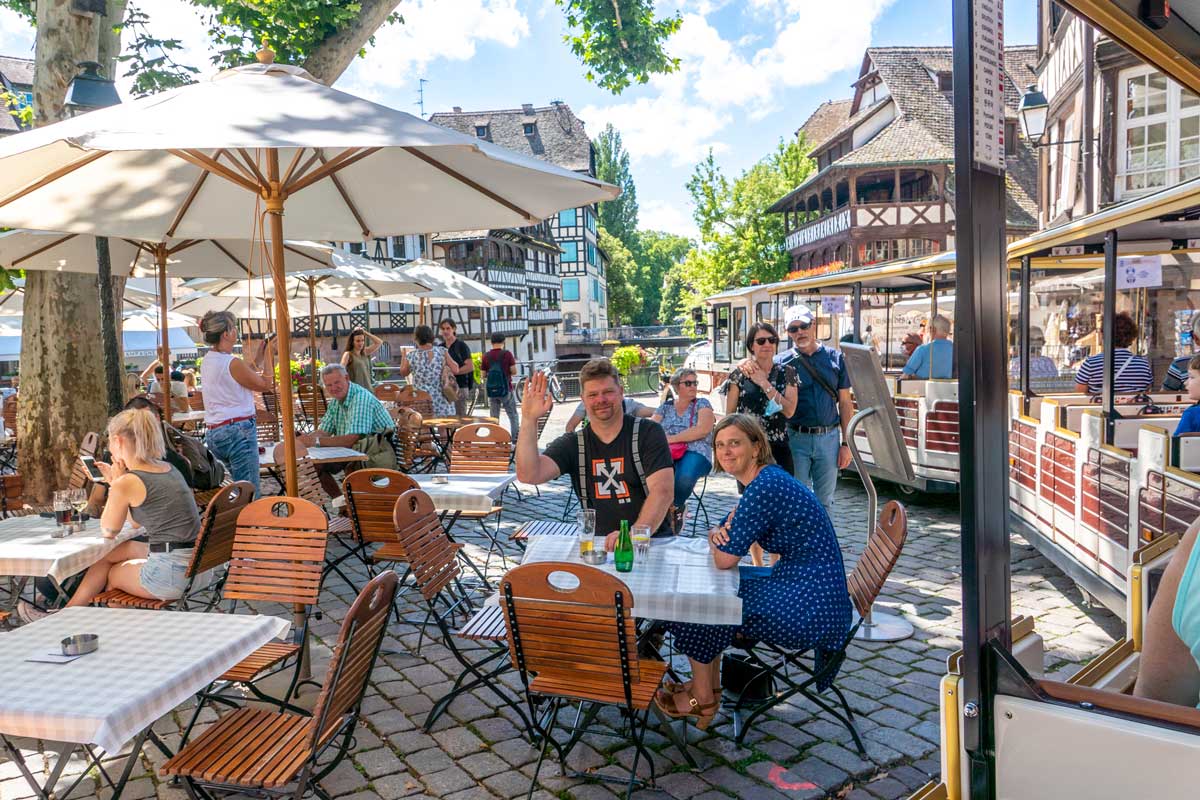 The Blue Flamingo, the unusual floating restaurant
The Blue Flamingo is my favorite restaurant, the one where I can make an appointment with my eyes closed. I gotta say it : it's a beautiful place! While eating aboard a boat in front of the shopping center Rivétoile, you completely forget that you're in Strasbourg. Moreover, it's delicious! A short menu, home-made dishes with only fresh products. The quality-price ratio is also very attractive: count 19 euros for the starter-main course or main course-dessert formula. In short, what more could you ask for?
In summer, the terrace on the roof of the boat offers a very pleasant spot to go for a drink with some music.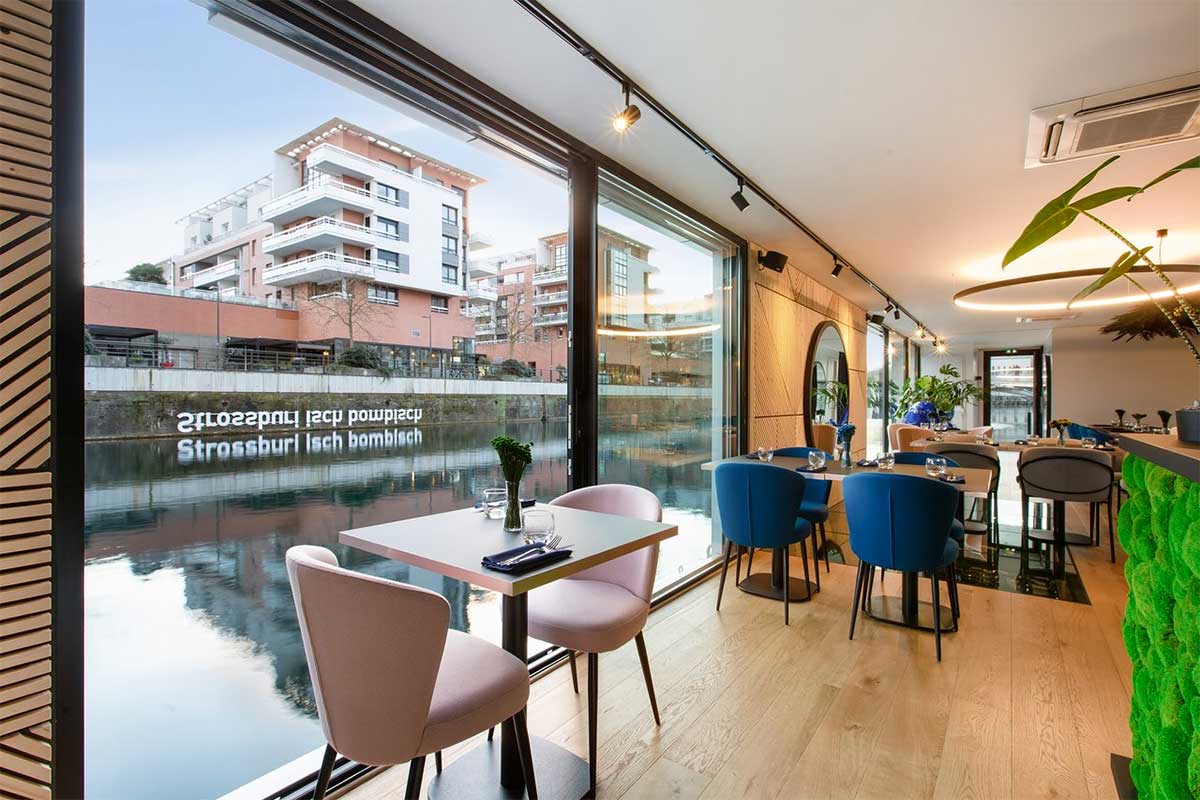 The Buerehiesel, the Michelin starred restaurant of the Parc de l'Orangerie
In the heart of the parc de l'Orangerie, you'll find a magnificent house. It's an old Alsatian farm dating from 1607 and that was moved in the Orangerie at the end of the 19th century. Viviane and Antoine Westermann set up their restaurant in 1970 there. The Buerehiesel gradually became one of the best restaurants in Strasbourg and even one of the most prestigious restaurants in Alsace. It was awarded three stars by the Michelin guide in 1994.
Their son Eric took over in 2001 and continues to keep the tradition of gastronomic excellence going with his signature dish: pan-fried frogs' legs with chervil, accompanied by schniederspaetle. Believe me, it's worth the detour at least once in a lifetime. Especially with a business menu at 49 €. This starred restaurant knows how to be accessible. And for the youngest (-35 years old), you can take advantage of the Etoiles d'Alsace formula.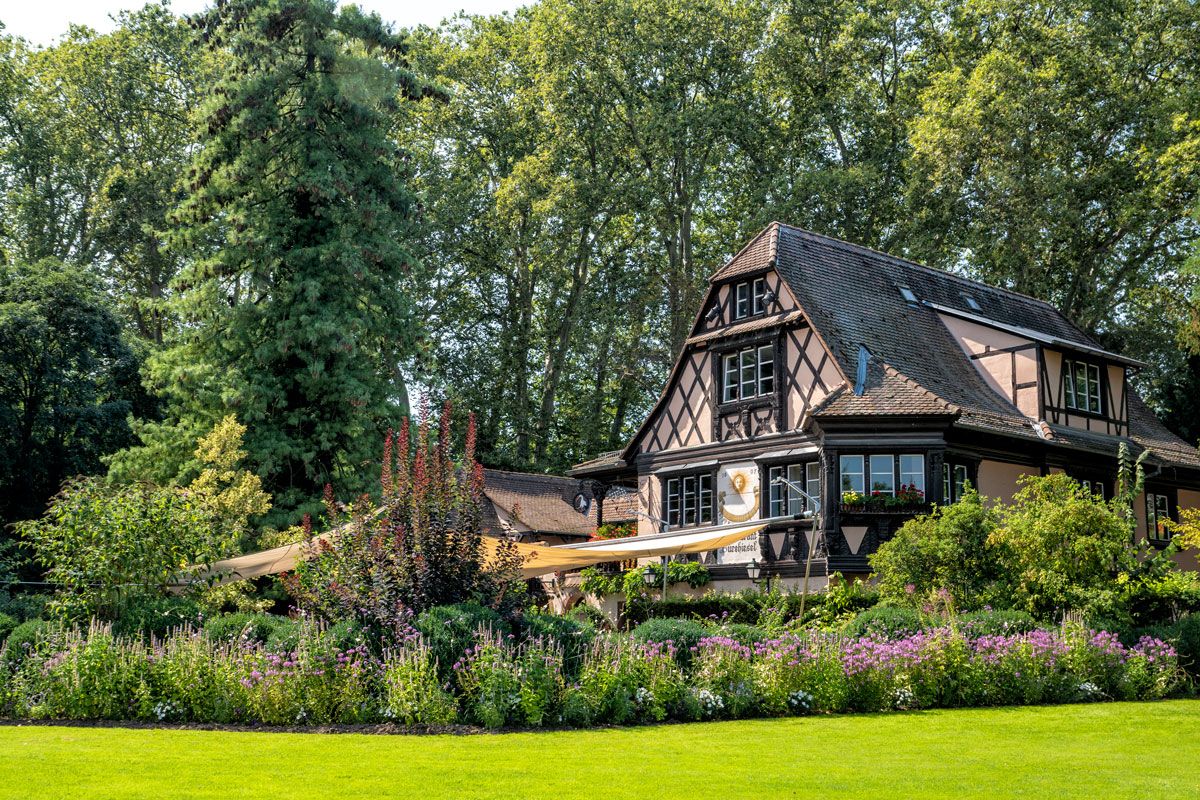 La Brasserie du Tigre, the best restaurant to eat a tarte flambee ?
Behind this large Art Deco facade repainted in black stands a legendary brewery in an exceptional setting. Beer was brewed there as early as 1795. After a stint as a university restaurant, Le Tigre - which proudly sits in the main hall - has started to roar again for our greater pleasure.
The place is particularly famous for its delicious tarte flambee, which are faithful to the tradition. Probably one of my best spots to eat a tarte flambee in Strasbourg. In summer, I particularly appreciate the large inner courtyard which offers a terrace out of sight and gives a very pleasant biergarten air.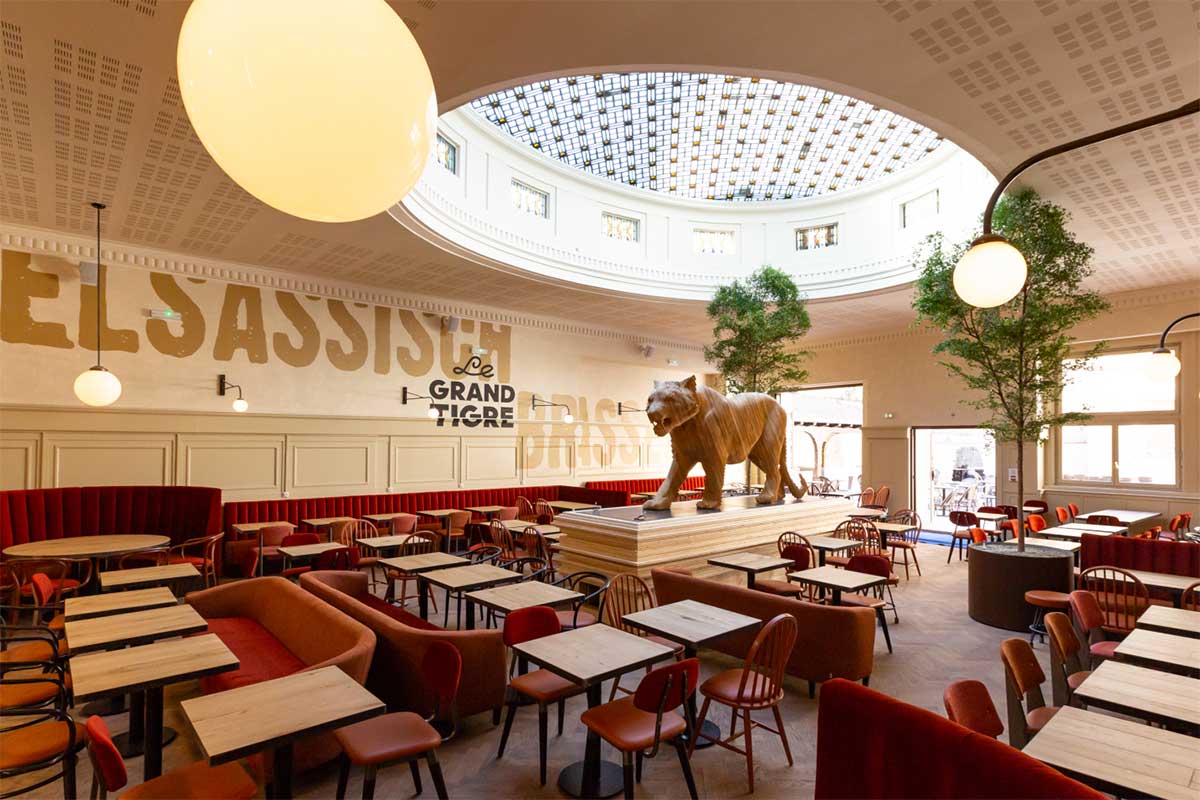 A good alternative is the brasserie Météor. The tarte flambee are also very yummy, there is a good choice of craft beers and the service is fast!
The WOW brasserie, the original Street-Art decor
In the most colorful street of Strasbourg's city center, there is an equally atypical restaurant: street-art on the walls and good food on the plate. The brasserie Wow (for Works On Walls), surfs admirably well on the wave of bistronomy with an original and seasonal menu: roasted poultry like a spring roll, salmon Thai style, braised fish like Yassa...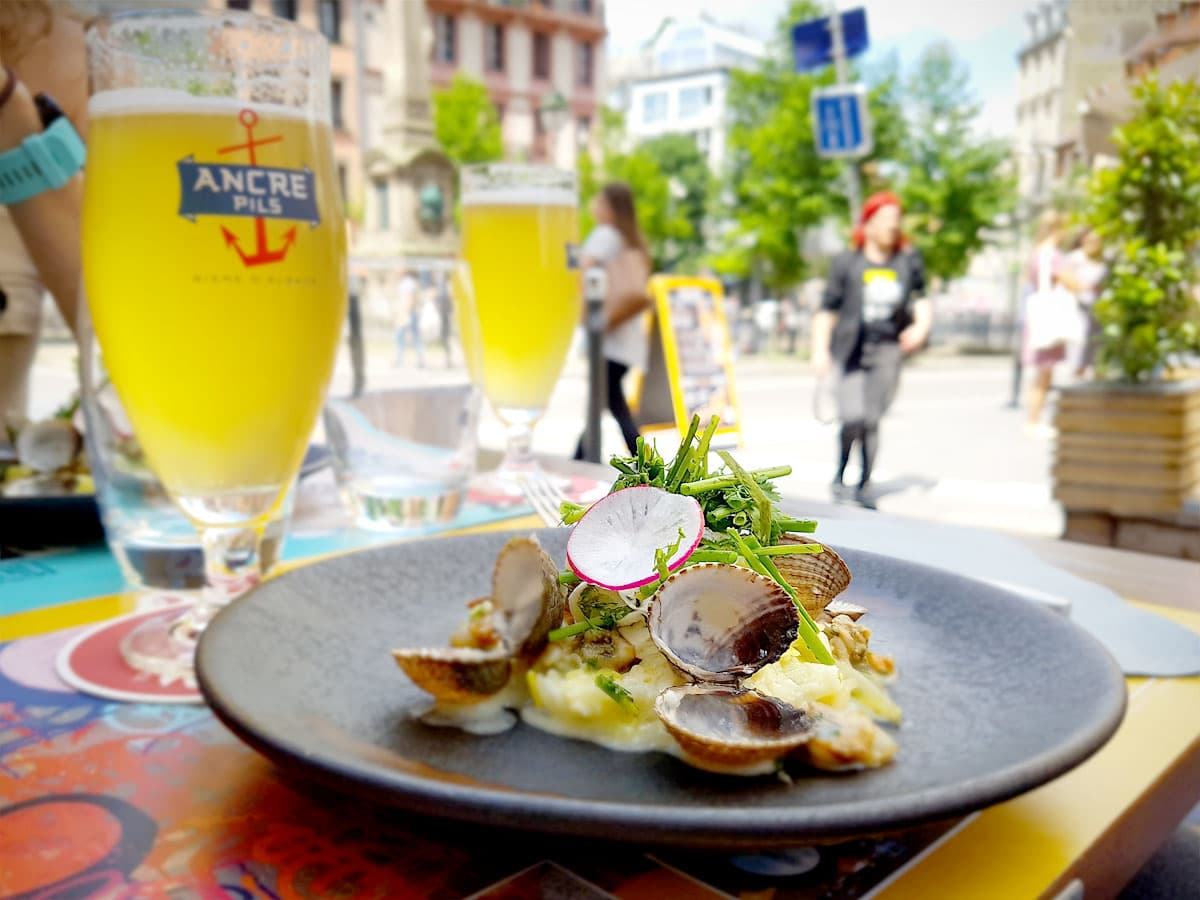 The menu of the day with starter + main course + dessert costs 17.50 euros. The decoration, even in the toilets, is the work of different street-artists including some local celebrities like Missy or Dan23. In summer, the terrace overlooking the pedestrian street is particularly pleasant.
Le Boma, the flexitarian restaurant
Installed in the former headquarters of a bank, the Boma is a nice address downtown. What I like is the simple menu composed of fresh and local products, adapted to all tastes. You can eat meat, fish, vegetarian, lactose-free or gluten-free. Everything is clearly indicated on the menu. The price is rather affordable with a formula starter + dish or dish + dessert at 20 euros.
Le pied de Mammouth, the yummy home-made burger
It's simple, when I feel like a burger, I always think about Le pied de Mammouth. This Strasbourg-based chain has 3 addresses: in Esplanade district, Schiltigheim and Illkirch. My favorite burgers : the Kraken with its mango chutney, its slice of brie, its grilled onions and its slice of coppa or the Magristrat with its munster, its rosti, its smoked breast, its red onion and its creamy sauce with herbs. All of this of course served with home fries.
You can order your burgers with single or double steak. Some burgers are offered with potato patties instead of bread.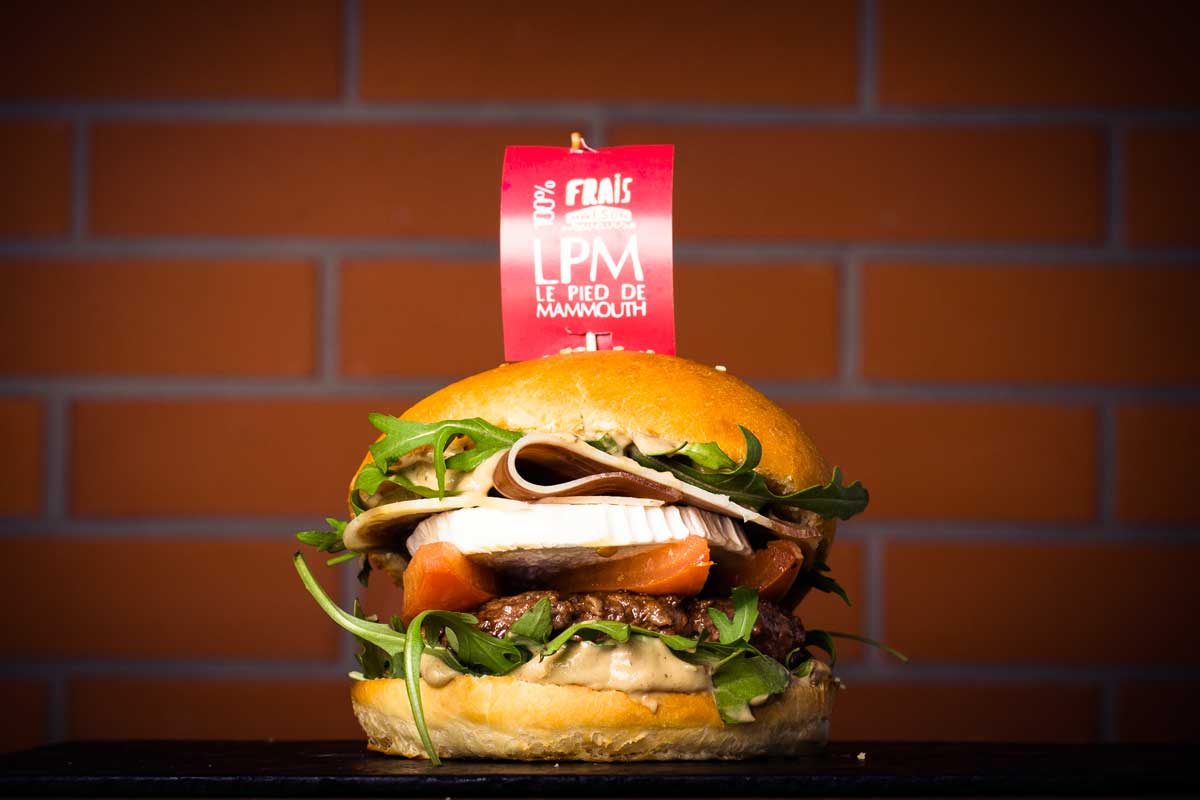 Pop & Lino, the nice Italian restaurant
There are many Italian restaurants in Strasbourg and it's hard to pick one out of the bunch. But one of the ones that stood out for me was Pop & Lino in the city center, not far from the Gayot market place. I liked the small private courtyard in the summer with its olive tree that makes you forget you're in Alsace.
I also appreciated the very friendly and attentive service when I went there with my daughter. I ate well there: a good pizza as in Italy, made with fresh products.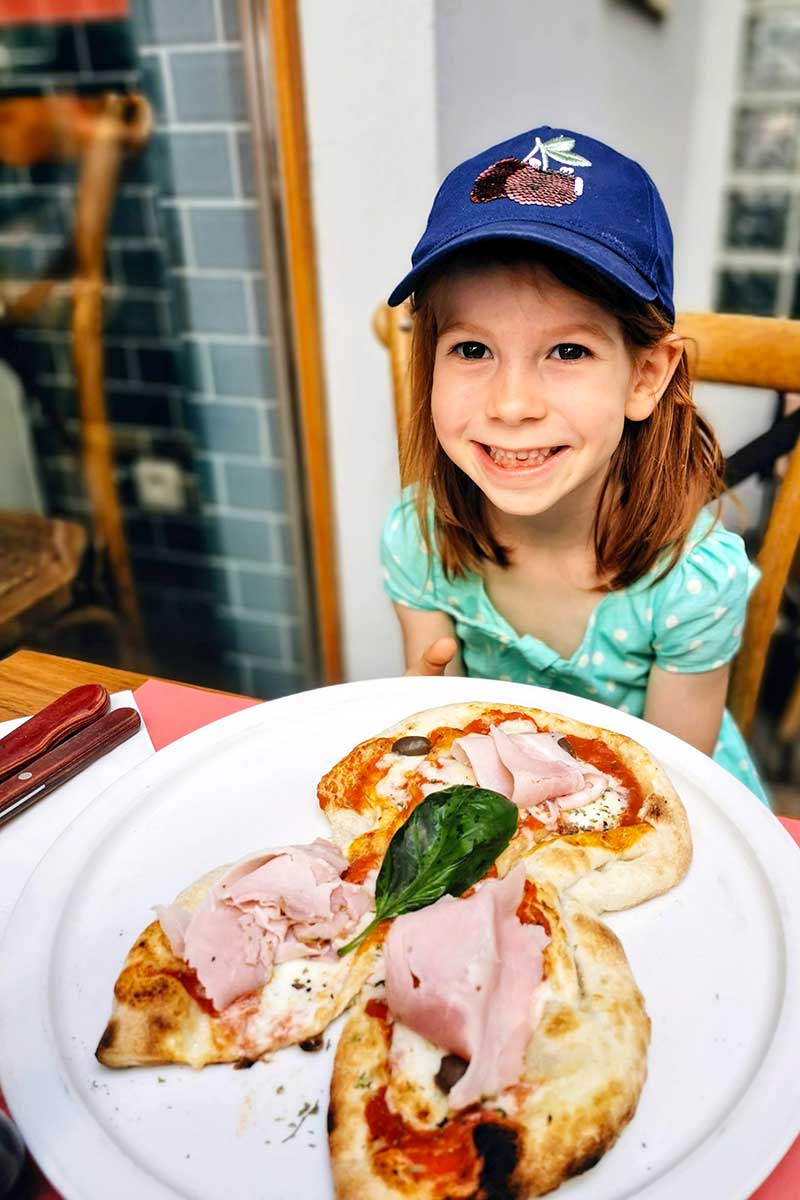 Don't hesitate to share in comments your Strasbourg culinary experiences, your good winstub or your favorite addresses! I'm looking forward to reading you🤗