Welcome to Strasbourg, the capital of Alsace! Are you looking for a spot to enjoy an authentic and good flamme kueche ? As a local guide, I'm excited to share with you some of my best places to savor this Alsatian specialty in Strasbourg!
Whether you're a first-time visitor or a seasoned traveler, find out about my guide to the best places to eat tarte flambees in Strasbourg :)
Flamme kueche: what's this traditional Alsatian dish?
Tarte flambée, also known as flamme kueche in the Alsace region of France, is a traditional dish from the region! It's a type of thin-crust pizza or flatbread that's typically made with a base of bread dough rolled out thinly and then topped with a mixture of fromage blanc (a type of fresh cheese), crème fraîche, onions, and bacon.
The toppings are then baked in a wood-fired oven at high temperatures for just a few minutes, giving it that perfect crispy texture and slightly caramelized cheese and onions. The dish is often served as an appetizer or snack. And it's even better when paired with a glass of local Alsatian wine!
Tarte flambée is a beloved regional specialty here in Alsace, and it can be found at many good addresses in Strasbourg!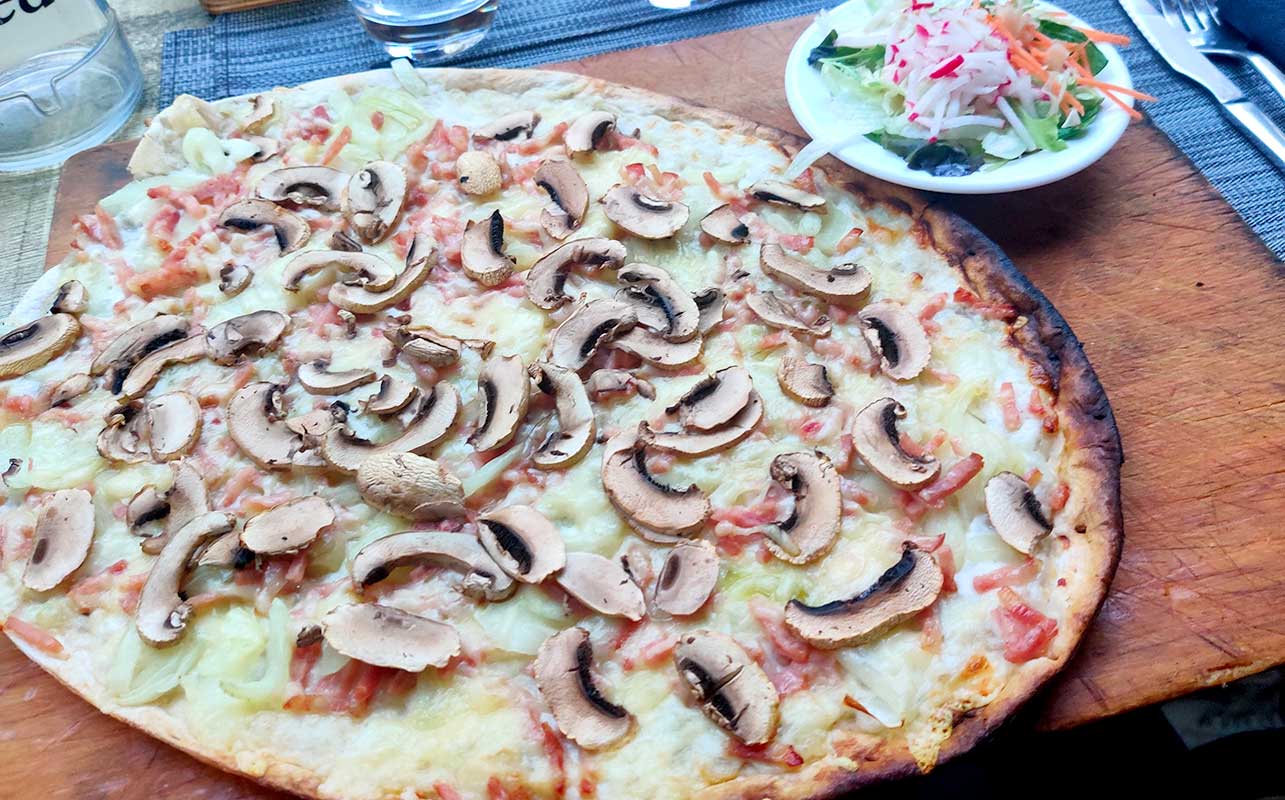 Mama Bubbele, to eat gluten free tarte flambees
Being gluten intolerant shouldn't mean missing out on the joy of devouring a delicious tarte flambée. There's an amazing restaurant you need to check out: Mama Bubbele. No need to book in advance! It's one of our top gluten-free restaurants in Strasbourg.
This lovely place is located in the heart of Strasbourg (Place du Corbeau) and serves up delicious gluten-free tarte flambée. And not only that, but they also use mostly organic ingredients, including flour from the local region, ensuring that every bite is both tasty and healthy. They always have plenty of options available, from the classic cream and bacon to more original toppings like tomme de brebis - cherry confit (vegetarian) or truffle brie (also vegetarian).
Although the prices might seem a bit steep, ranging from €10 up to €16.50, they're definitely worth it. You can even indulge in a tarte flambée topped with filet mignon d'Alsace and munster or au gratin with 8 / 10-month-old Comté cheese.
👉
Address: 2 Quai des Bateliers, accessible by Tram A or D, Porte de l'Hôpital stop.
The best part about this place? It's very tourist-friendly with menus available in English and German. Plus, one of the waitresses is even Spanish, making it easy for visitors from all over the world to enjoy their meal without language barriers :)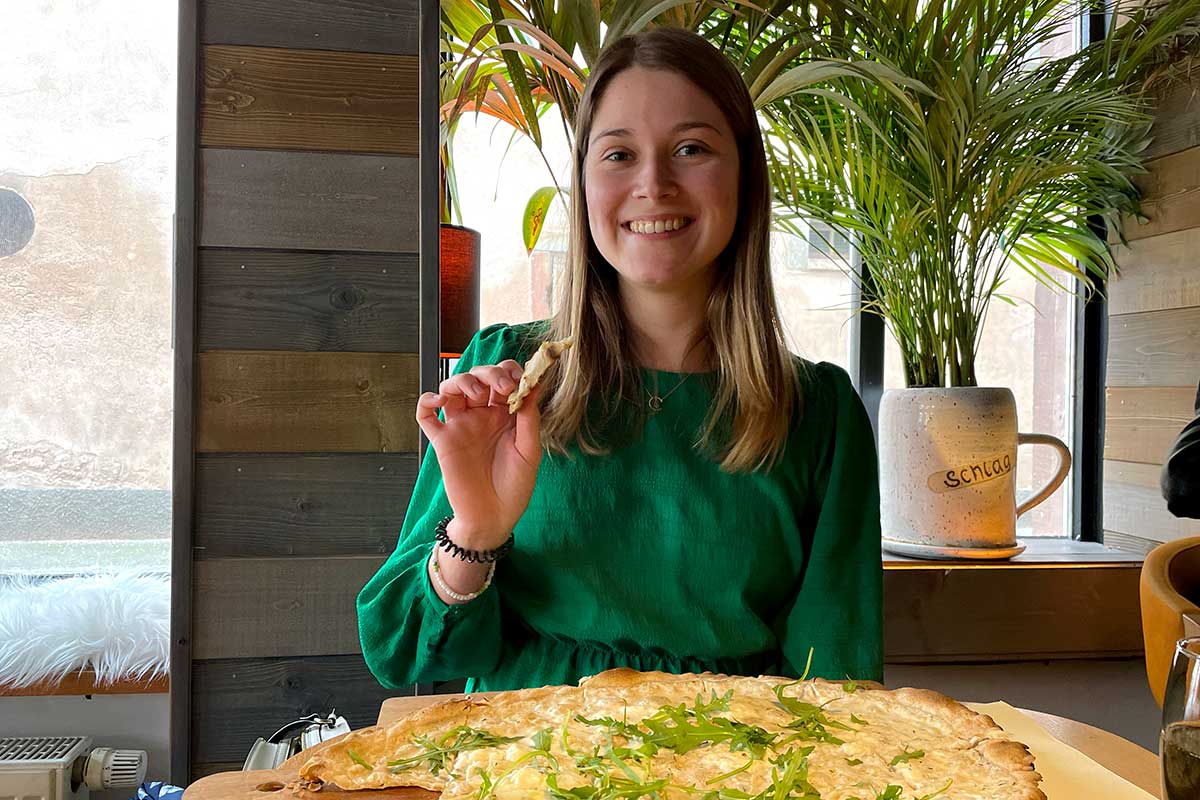 Le Tigre, for artisanal and organic flamme kueche
Hidden behind a gorgeous Art Deco façade, painted in bold black, lies a truly legendary spot with a setting that will take your breath away. Can you believe that they've been brewing beer on this site since 1795?! And after a brief hiatus as a university restaurant, Le Tigre - the iconic centerpiece of the main room by the way! - has once again started to roar, much to the delight of locals and visitors alike.
But let's talk about their pièce de résistance - their delicious tartes flambées that are steeped in tradition. In fact, this place is so committed to maintaining the authenticity of their recipe that they even joined the Brotherhood of the true Flammekuech in 2019. And when summer rolls around, you simply must check out their amazing courtyard - it's the perfect place to relax and enjoy a lovely biergarten atmosphere, you won't regret it!
👉
Address : Imp. des Jardiniers, accessible by tram A et D ; Ancienne Synagogue stop
The prices range from 8.80€ to 13.50€, making it an affordable and tasty option for any budget. They also have the option to flambe your sweet flamme kueche with Calvados!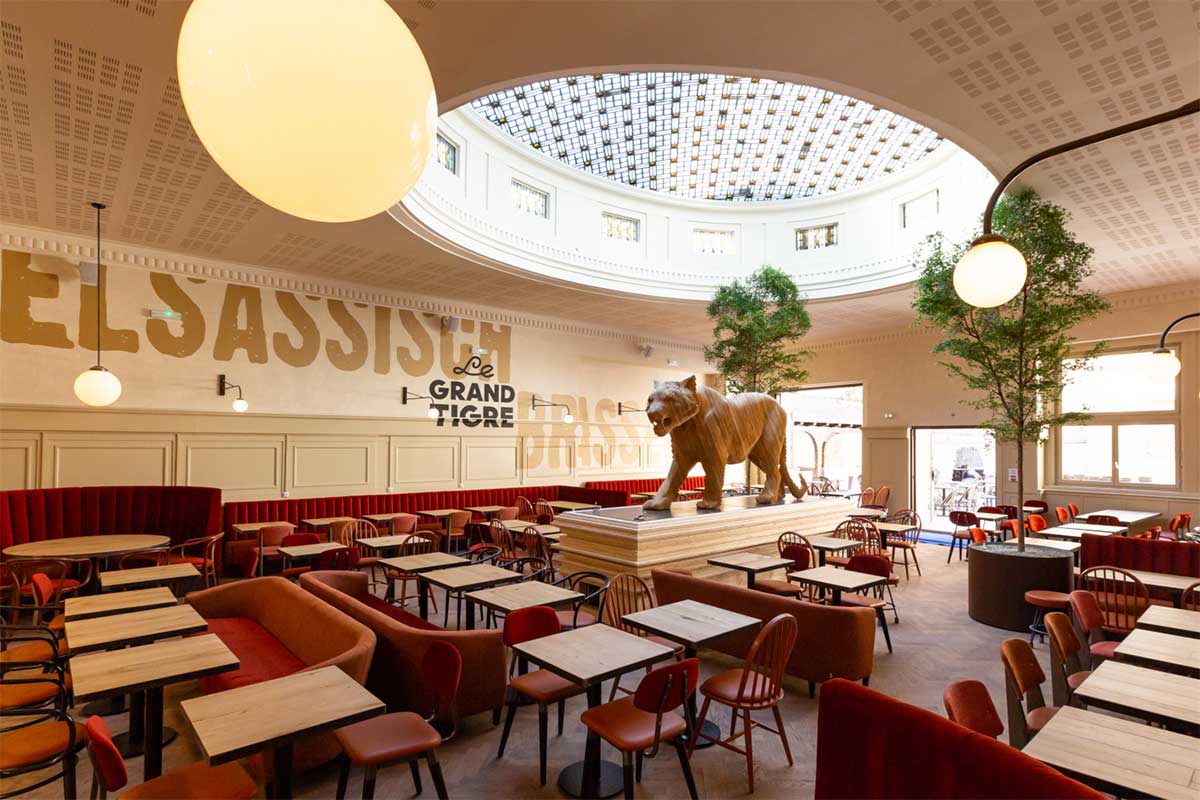 La Fignette, to enjoy time with family
La Fignette is located in the heart of the city's historic center. The majestic decor and warm atmosphere make it the perfect place to enjoy a delicious tarte flambée. The menu at La Fignette is very varied, with traditional, sweet, and even vegetarian tarte flambées.
If you're looking for a friendly place to take the whole family, La Fignette is perfectly suited. Children can choose what they want from the menu without being limited by a set menu, and prices are reduced by half.
Prices are very reasonable, ranging from €9.20 to €13.50 for a delicious and flavorful tarte flambée, prepared with fresh and local ingredients. You can easily reach La Fignette by taking tram A or D to the Langstross Grand'Rue stop and treat yourself to this Alsatian specialty.
👉
Address: 5 Rue de la Vignette, accessible by Tram A or D, Langstross Grand'Rue stop.
Best part about this good address? Those who love different flavors can even split their tarte flambée in two to taste multiple combinations of flavors, like half rocket parmesan and half mushrooms!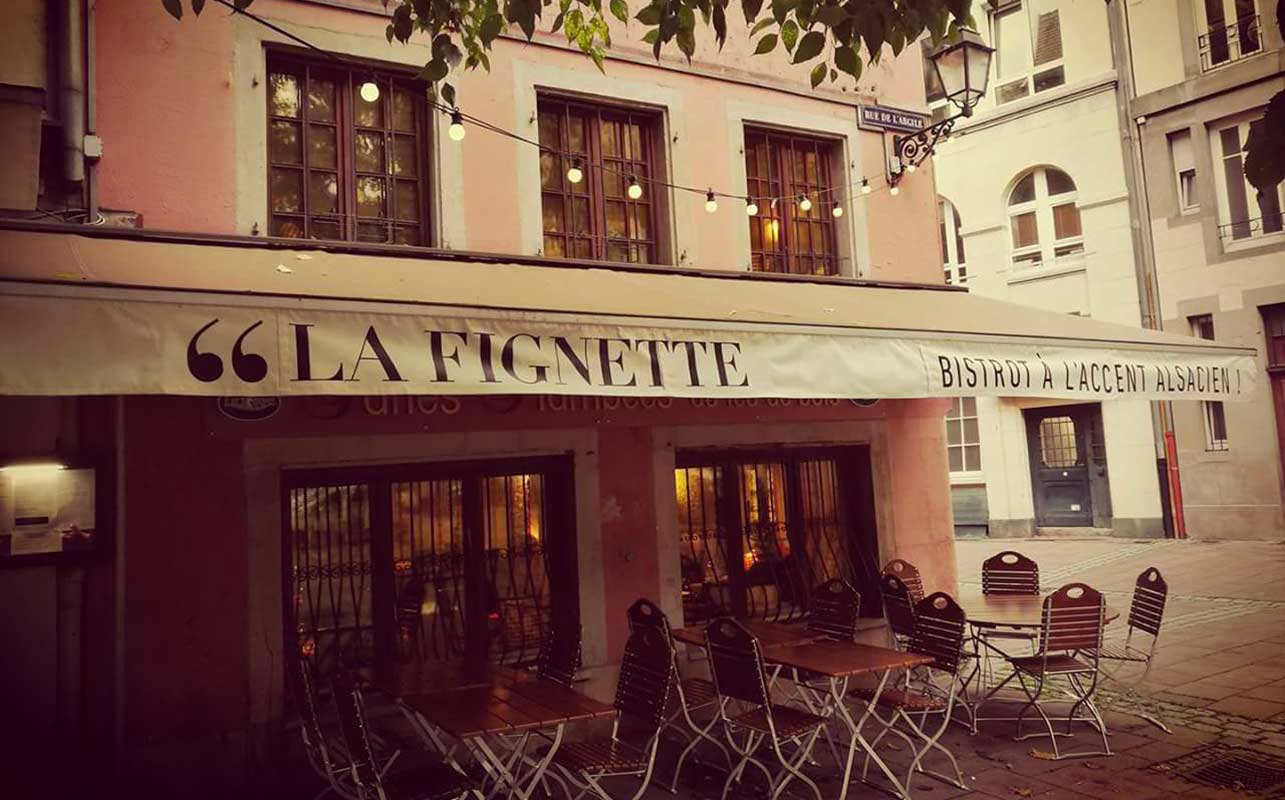 Au Meteor brasserie, to drink local beers and eat good food!
The Météor brewery is definitely one of my favorite bars to enjoy a delicious tarte flambée. I love going there with my friends when I'm feeling a bit hungry.
The tarte flambée is also top-notch, and they have a great selection of craft beers (even though I'm not a fan of Météor beer!), quick service, and a varied menu. The tarte flambée is crispy and delicious, and the prices are only slightly higher than in a countryside restaurant.
The menu is also in English, German and Spanish!
You can expect to pay between €8.90 and €11.50 to taste a tarte flambée in a bar.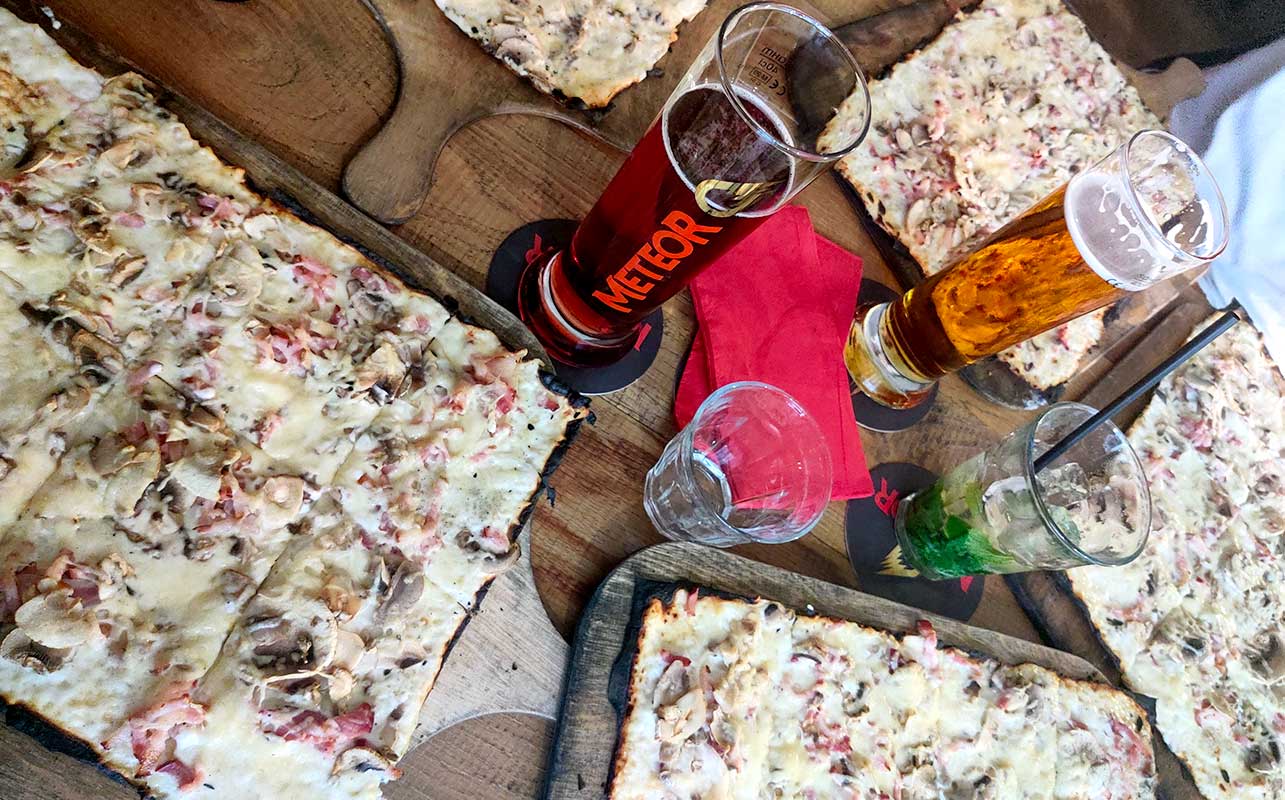 If you're looking for other bars to eat a tarte flambee, I also recommend you going to Caupona or Troquet des Kneckes. I've a weakness for gratinéed mushroom tarte flambées! Whenever I see it on a menu, I can't resist ordering it!
La Binchstub, to try two addresses
The Binchstub is a hidden gem in the city center with not one but two addresses to discover! These two restaurants offer a friendly atmosphere that guarantees a great evening, whether you choose to dine in or take away. They're tucked away in small streets, providing a cozy atmosphere away from the hustle and bustle of Strasbourg!
Tartes flambees are a must-try there, and they have been given a unique twist with high-quality ingredients.
There are plenty of flavors to choose from, including the traditional recipe, but for those who love the sweet and savory combination, I highly recommend trying the flammekueches with goat cheese, thyme, and honey - it's definitely worth eating!
Both locations are open until 1am, so whether you're starting or ending your evening, you can enjoy a great meal here. The drink menu, featuring local beers and wines, is a great way to immerse yourself in the Alsace culture.
👉
Address #1: 28 Impasse de l'Ecrevisse, accessible by Tram A or D, Homme de Fer stop Address #2: 6 Rue du Tonnelet Rouge, accessible by Tram A or D, Langstross Grand'Rue stop.
The prices are also very reasonable, ranging from €9.50 to €12.50, given the quality of the food and the cozy ambiance of the restaurant.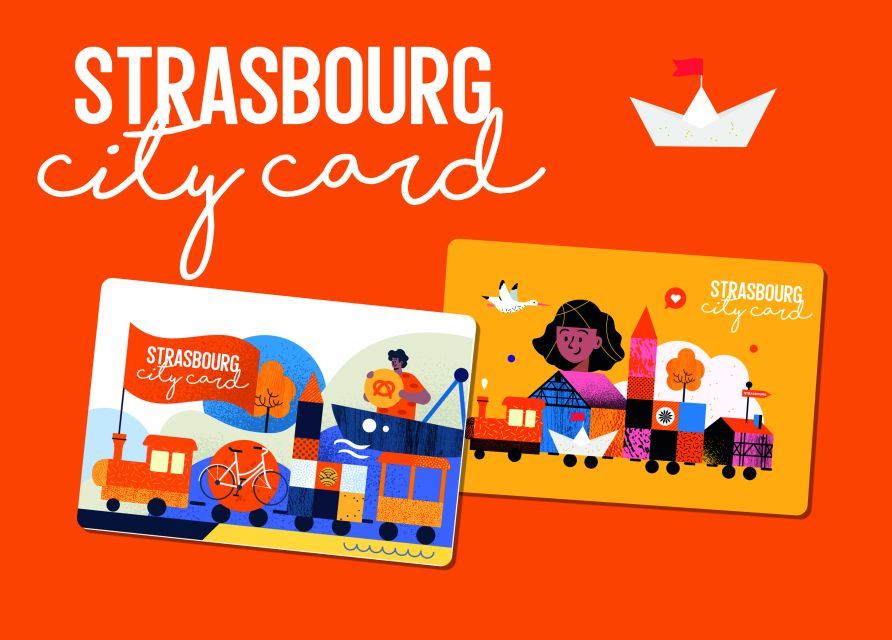 Strasbourg City Card - 7-Day City Pass
Explore Strasbourg with a 7-day city pass that offers discounted rates for attractions and activities. Climb up the Strasbourg Cathedral, take a guided walking tour, or visit the Château Vodou Museum.
Get the Strasbourg City Card