Want to eat gluten free pastries in Strasbourg ? I give you my favorite places to eat some gluten free products in bakeries.
Please, don't forget to get further information and talk about your dietary plan with bakers. Some products may be safe for people with gluten sensitivity, but not for gluten intolerance!
Some traditional gluten free bakeries in Strasbourg
1. Boulangerie L'Eden Libre de Gluten - the 100% gluten free bakery and pastry shop in Strasbourg
Not to be confused with the restaurant L'Eden Sans Gluten, the bakery L'Eden Libre de Gluten is a 100% gluten free bakery and tea room. They have a few places inside for lunch. On the menu: slices of pizza or quiche, salads, sandwiches and freshly squeezed fruit juice.
We love this address especially for its exceptional pastries in individual portions or in larger sizes for the holidays (ahhh the Christmas logs!!!).
The bakery L'Eden Libre de Gluten is at 15 place du Temple Neuf in Strasbourg.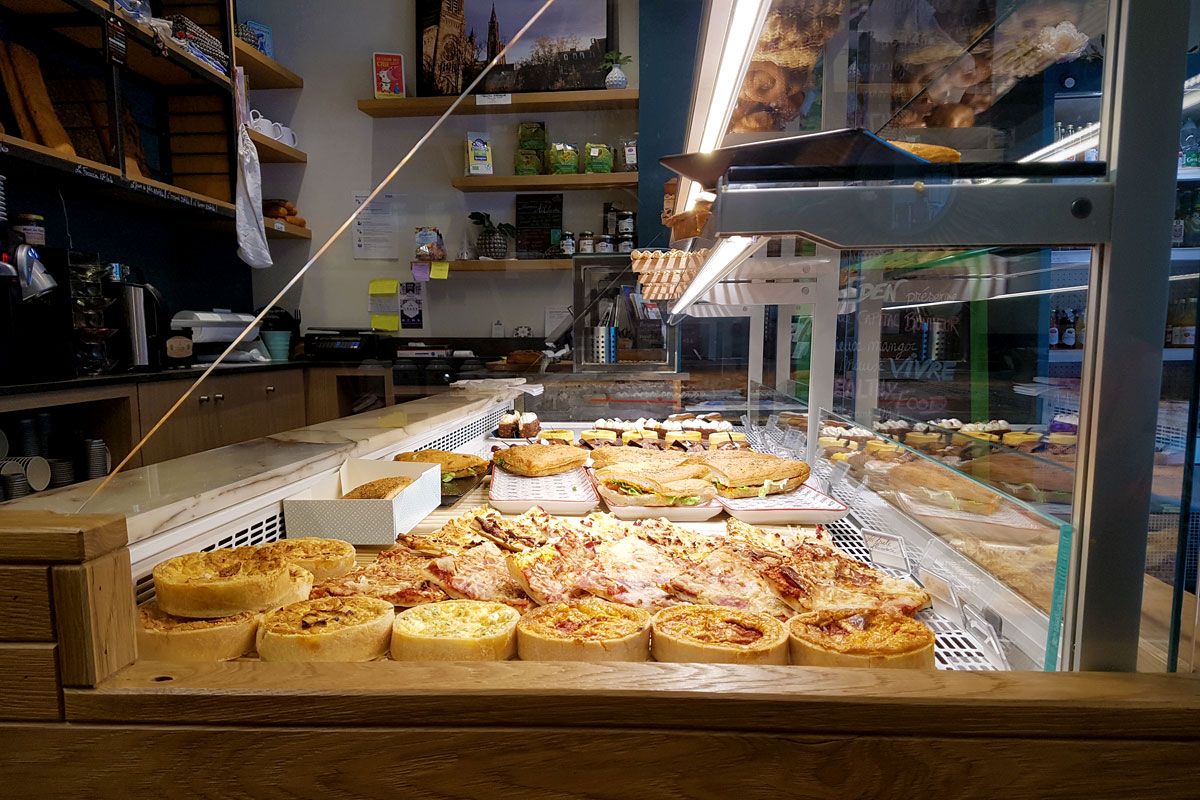 2. Au Feu de Bois - located 20 minutes away from the city center in Neudorf district
In the Neudorf, the bakery "Au feu de bois" offers gluten-free bread. You just need to order 2 days in advance and by batch of 2. It is excellent, even better than the one at L'Eden Libre de Gluten. You can also personalize it according to your taste: with dried fruits, seeds, chocolate...
You can find them at 36 Rue du Lazaret in Strasbourg.
Gluten free bakeries and tea rooms in Strasbourg
1. Bistrot & Chocolat - the vegetarian and gluten-free tearoom located at the bottom of the cathedral
The owner of Bistrot & Chocolat - which is halfway from a restaurant and a tearoom - is a figure of Strasbourg vegetarian food. Only meticulously sourced products and homemade cooking are used.
You can have lunch there, but you can also take a sweet snack with a chocolate fondant, a lemon curd tart or a dark chocolate dome. Prices are reasonable!
By the way, it's one of the best places to have a gluten-free lunch. There is an outdoor terrace to enjoy the nice weather and the view of the cathedral of Strasbourg. It's also one of the few places in Strasbourg to offer a gluten-free and vegan brunch!
Note that you need to go there spontaneously and can't book a table to eat there.
Bistrot & Chocolat is located at 8 Rue de la Râpe in Strasbourg near the beautiful cathedral.
2. What the Cake - a lovely tea room with delicious pastries
This tea room is located in the rue du Fossé-des-Tanneurs in the center of Strasbourg. All cakes and pastries are gluten free because they do not contain flour. It's homemade and you can choose between many pastries: cheesecakes, carrot cakes, brownies, cookies, etc. Most pastries are also vegan friendly.
I've got to admit that I always fall for their gluten free peanut butter and chocolate brownie… It is SO TASTY!
What The Cake is at 51 Rue du Fossé-des-Tanneurs in Strasbourg.
3. La Bäckerstub - an artisanal baker's shop and organic products
A fusion between a bakery and a tea room, you can find there organic products. La Bäckerstub serves a few preparations adapted to gluten-free diets such as pieces of bread and chocolate cake. You will also find a range of innovative breads with natural leaven made from Alsatian cereals and old varieties.
The bakery uses a mixture of coral lentil, buckwheat and rice flours with buckwheat leaven, in plain or seeded versions.
As the gluten-free preparations are made in the same workshop as the rest of the products, they may contain traces of gluten. So pay attention!
La Bäckerstub is located at 2 Place Clément in Strasbourg.
Remember that it is possible to find traces of gluten in some products when prepared in the same workshop as other products. It is up to each of us to ask the bakeries for more information to make sure that food can be safely eaten!
Well, bon appétit!