Finding things to do in Strasbourg at night is an easy challenge. Whether you're interested in things to do that are foodie, music or art related, there're endless options to keep you busy during the nightlife.
Special events are often organized in Strasbourg to celebrate important times of the year - such as summer, Christmas market, and so on and so forth.
Besides, Strasbourg's a student city… which means that the atmosphere at night is very enjoyable. Prices are also quite affordable (words of a former student!).
Find out my selection of the top things to do to spend a nice time in Strasbourg in the nightlife.
See the majestic Cathedral of Strasbourg
My favorite thing to do when I walk in Strasbourg at night is to admire the cathedral! It is even more majestic as the sun has gone down.
I usually stop walking once I am on the cathedral square. Then, I enjoy taking a look at the magnificent facade. The rose window is even more beautiful when lit. Lights on the windows and on the big arrow give them quite a dramatic effect at night time!
During summer break, there is a seasonal sound and light show at night. I find it magical! The cathedral is lit up in different colors. Animations (animated stories of Strasbourg, burning trees, music, …) are projected on the facade. I believe this nightly show is worth a visit! It starts at 10pm (in August) or 10:30pm (in July). By the way, it's totally free!
At Christmas time in Strasbourg, wooden chalets stand at the bottom of the cathedral. Between good smells of mulled wine and flam'baguettes as well as the Christmas decorations lit, it feels like you were in a fairy tale! You should totally have a walk there.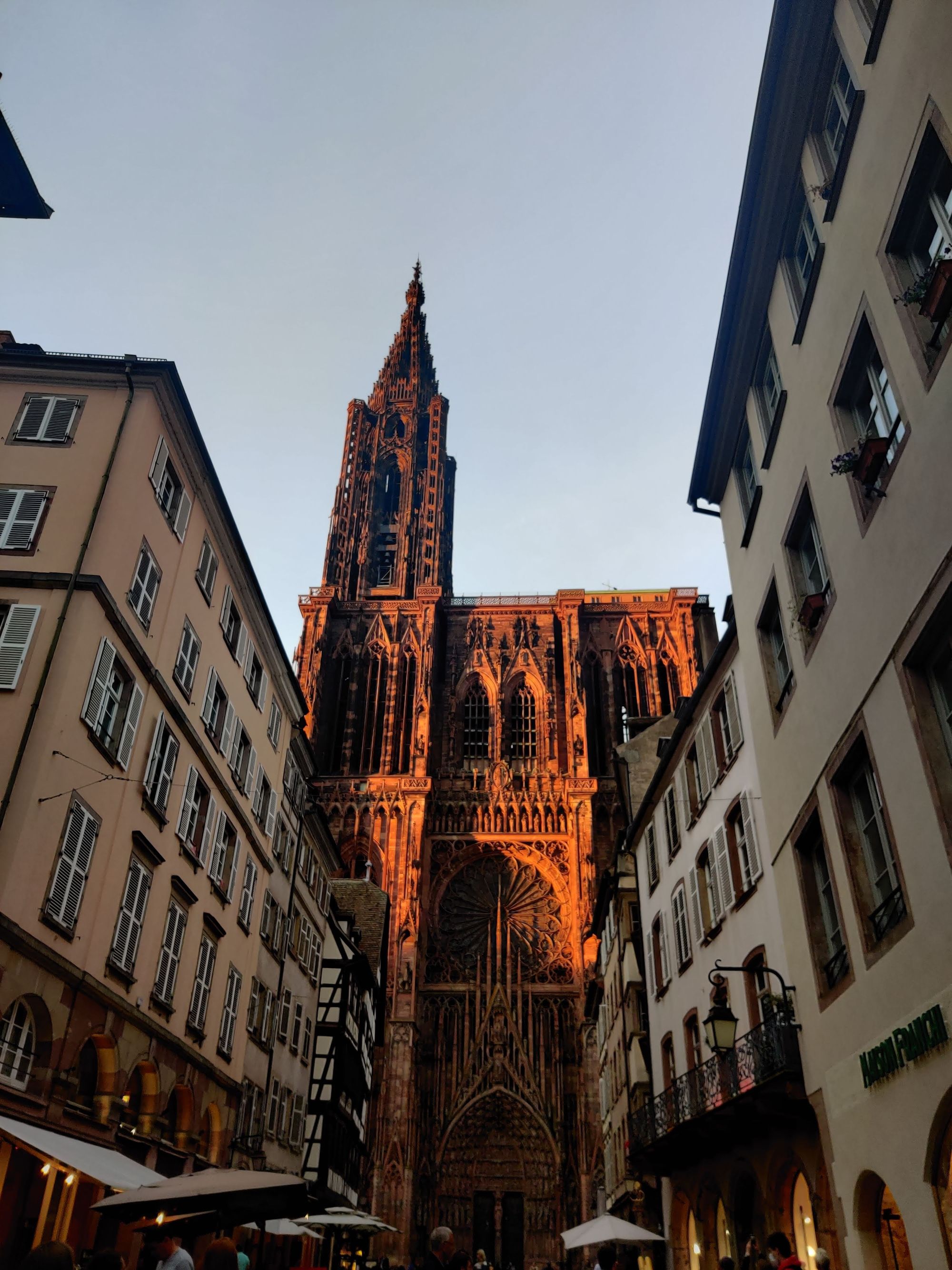 Take a stroll in Strasbourg at night
Enjoy the lit cobblestone streets in Petite France quarter
Strasbourg is absolutely stunning after sunset, even more if you go to Petite France… But that's still another topic!
In Petite France quarter, you'll find quite a romantic atmosphere with the half timbered houses at night. The quarter is very peaceful and typical of our region, especially when the sun has gone down. I love the twinkling lights of the taverns.
I advise you to go to the Ponts Couverts (covered bridges) and look at the House of Covered Bridges. If you have time ahead, you should even get lost in the cobblestone streets! They are lovely. It's one of the unmissable things to see in Strasbourg.
Take a walk along the docks of the Ill river
There's a beautiful river in Strasbourg that's called the "Ill" River. It surrounds the Grande-Île of Strasbourg, in which you'll find the historic center of the city.
I'm used to take a stroll along the docks. The Quai des Bateliers - which are 3 minutes walk from the Cathedral - are often busy because you can sit there at the water's edge. At night in summer many people go there to have some beers, play games or just hang out with friends.
If you want to have a quieter time, I recommend you to go down the stairs by Quai Saint-Thomas or near the Batorama jetty. Then, just enjoy your walk at night. The pathways will make you go under pretty bridges but also in nature. You may even find a little vegetable garden somewhere.
Don't forget to take a look at the beautiful weeping willows near the Lycée International des Pontonniers and at the nice architecture lit at night.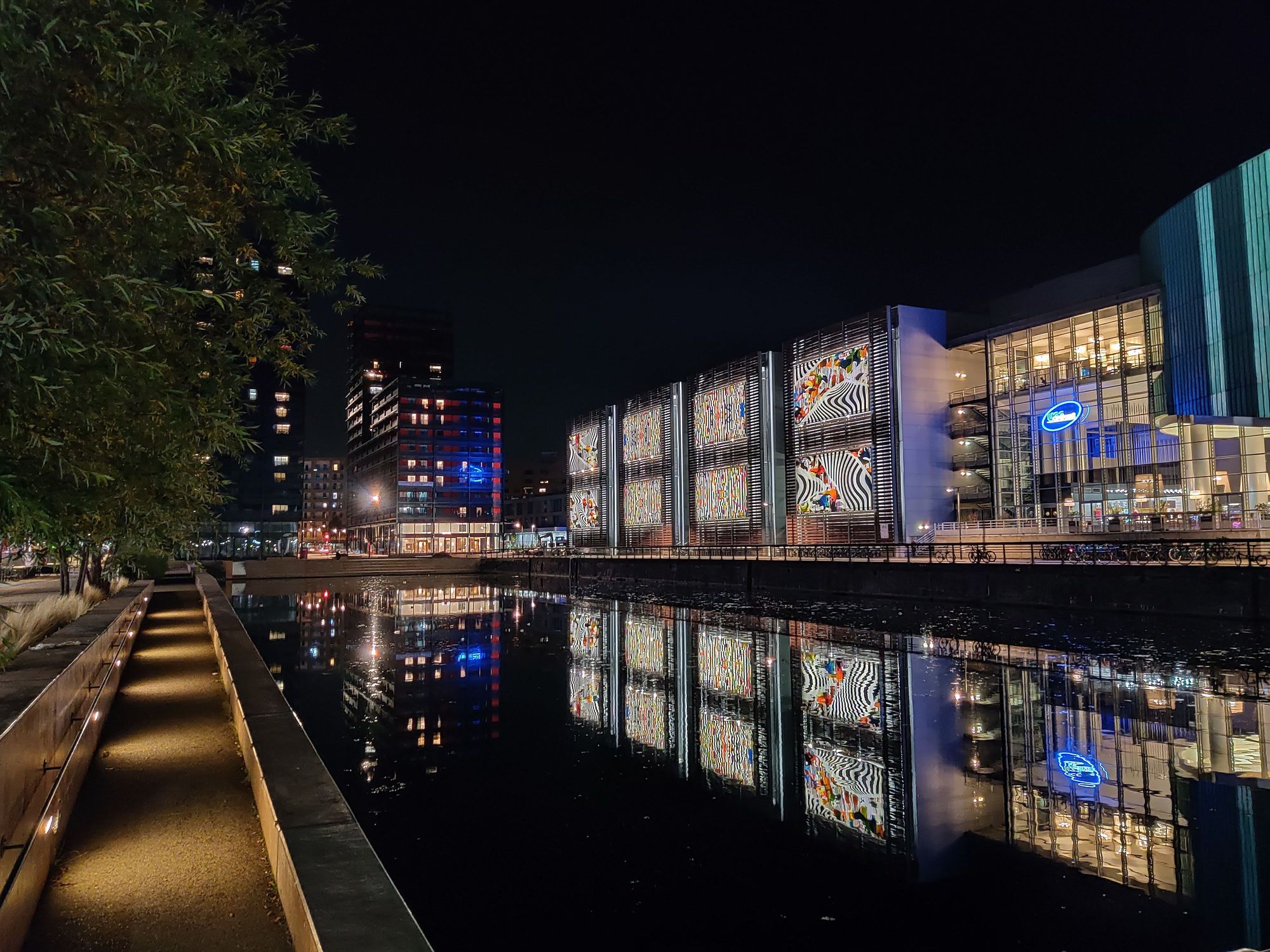 You can also go to the Presqu'Île André Malraux in the Rivétoile quarter to enjoy the view of the lit buildings and of the coloured lights at night.
If you don't feel like walking, you can also rent a bike for your journey in Strasbourg.
Have a drink downtown
Strasbourg is also very alive at night. Taking a stroll in the city is fun, but I'm pretty sure you'll also want to refresh yourself or have a bite somewhere. I will give you some of my favorite bars, where you can enjoy the nightlife!
Caupona Taverne (109 Grand'Rue, 67000 Strasbourg) to drink good beers and eat delicious tartes flambées. It's a magnificent old building with stones, beams and wooden furniture. Prices are affordable. However, you may have to wait a bit to be served. So don't be in a hurry if you stop there!
Jeannette et les Cycleux (30 Rue des Tonneliers, 67000 Strasbourg) to drink delicious cocktails. It's also the perfect place to eat on the go: yummy snacks, aperitif planks, etc. The decoration inspired by the 60's is charming. If you're with friends or your partner and want to spend a calm evening, I advise you to go there.
L'Alchimiste (3 rue des Soeurs, 67000 Strasbourg) to drink original and delicious cocktails. There is a touch of humor in the drink menu. You may be surprised at first by the place that looks unusual. But it's worth the try.
And if you're looking for good beers at night, you should go to Les Berth'Om (18 Rue des Tonneliers, 67000 Strasbourg).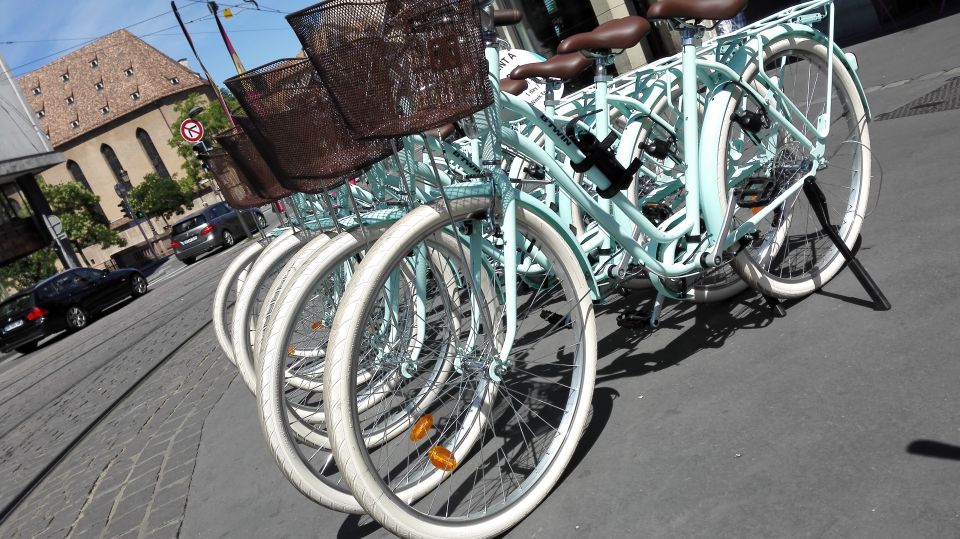 Strasbourg: 1-Day Bike Rental
Rent a beautiful bike for a day and discover the beauty of Strasbourg. Ride safely and take in the main sights such as the European Parliament and the Cathédrale.
Rent a bike in Strasbourg
If you're more of the adventurous type, you can look for the speakeasies of Strasbourg. I do enjoy having a drink at the Secret Place (AEDEN Place, 4-6 Rue des Aveugles, 67000 Strasbourg) and the Moonshiners (Galopins, 55 Grand'Rue, 67000 Strasbourg). Have fun finding them!
Take advantage of the cultural life in Strasbourg
If you enjoy music related activities, there are some karaoke bars in Strasbourg such as Jimmy's Bar or The Bunny's to spend the night. I always have a lot of fun when I go there.
To vibrate to the rhythm of the music, I also recommend you to go to some places. They regularly organize musical events at night. You'll have a great evening there:
You can also check the concert program of La Laiterie and hope to find some last minute tickets.
Are you ready to enjoy Strasbourg's nightlife ?