There are plenty of gluten-free places to eat in Strasbourg. Find out more about my favorite restaurants and bakeries where you can enjoy yourself safely if you want to eat gluten-free food!
L'Eden Libre de Gluten, the 100% gluten free bakery and pastry shop
The bakery L'Eden Libre de Gluten is a 100% gluten free bakery and tea room. They have a few seats inside for lunch. To be eaten: slices of pizza or quiche, salads, sandwiches and freshly squeezed fruit juice.
We love this place especially for its exceptional pastries in individual portions or in larger sizes at Christmas time in Strasbourg (ahhh the Christmas logs!!!).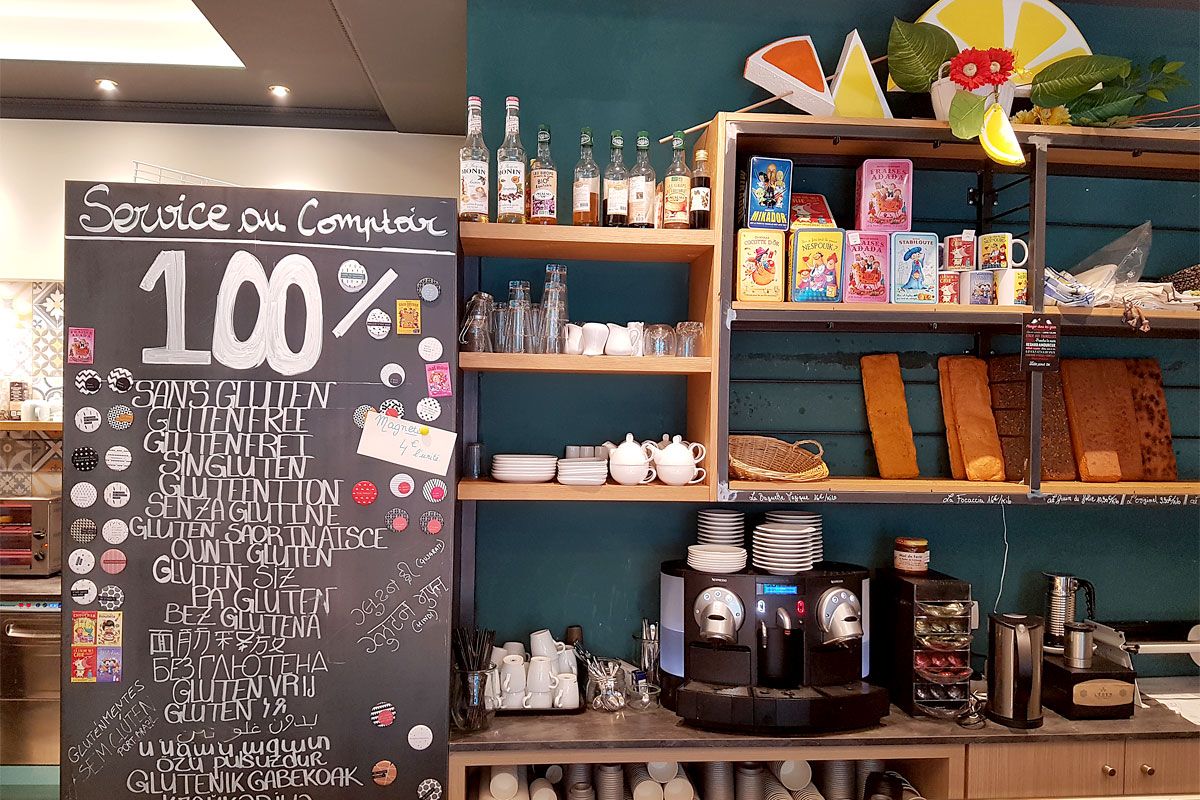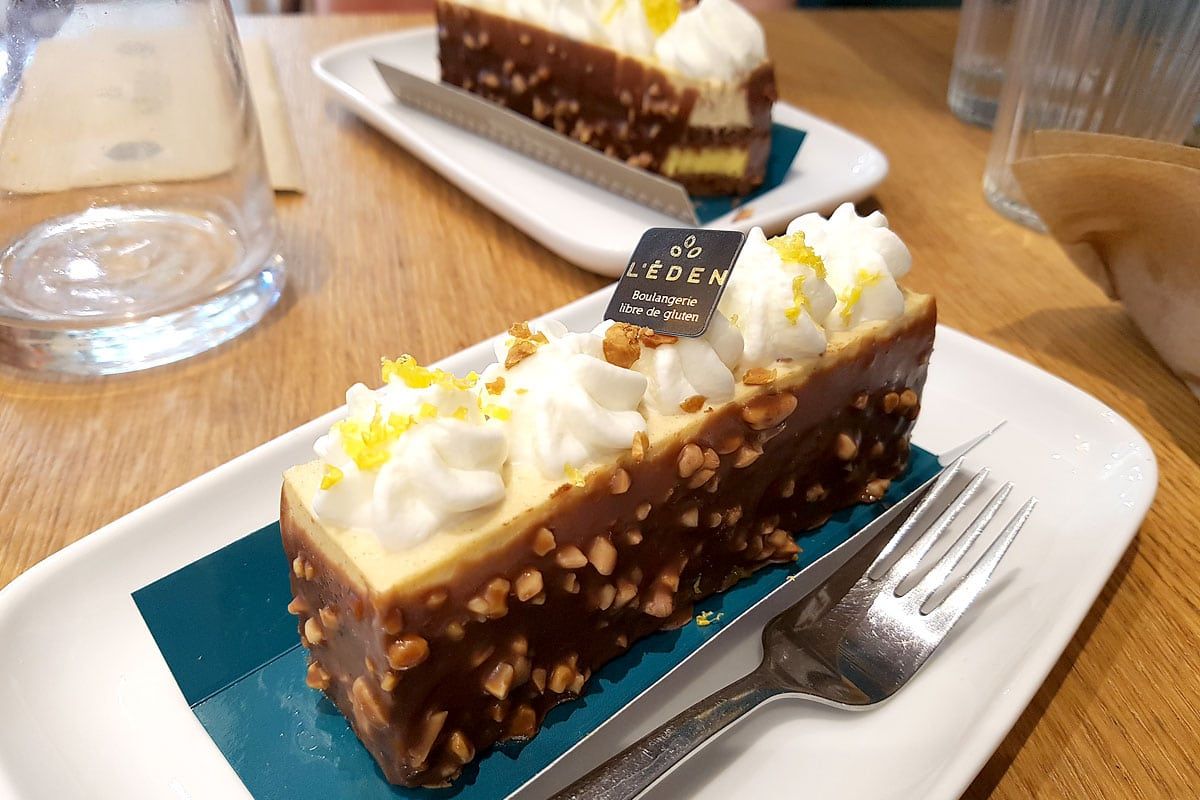 La Bouture, Origin and Paradise (ex. Pur ect.), vegetable, organic and local
The locavore chain Pur Etc. has been taken over by its employees and transformed into a cooperative with a 100% vegetarian offer, as far as possible artisanal, organic, local and seasonal, and zero waste. Vegans and gluten-free eaters are welcome, with several options on offer each time, regularly renewed according to the season.
Pur Coop now has 3 locations in Strasbourg, each with its own identity and concept:
Origin, a plant-based coffee shop in Langstross / Grand'Rue, with a wide choice of coffees, fresh juices, home-made pastries, sweet treats, sandwiches and savoury snacks.
Paradise, vegetarian street food on Place Saint-Etienne, with burgers, hot dogs, no fish & chips, kebabs, salads, etc.
La Bouture, on the Malraux peninsula, has a canteen atmosphere where you can help yourself to one of the 2 dishes on offer, salads or soup and desserts. There are also gluten-free quiches.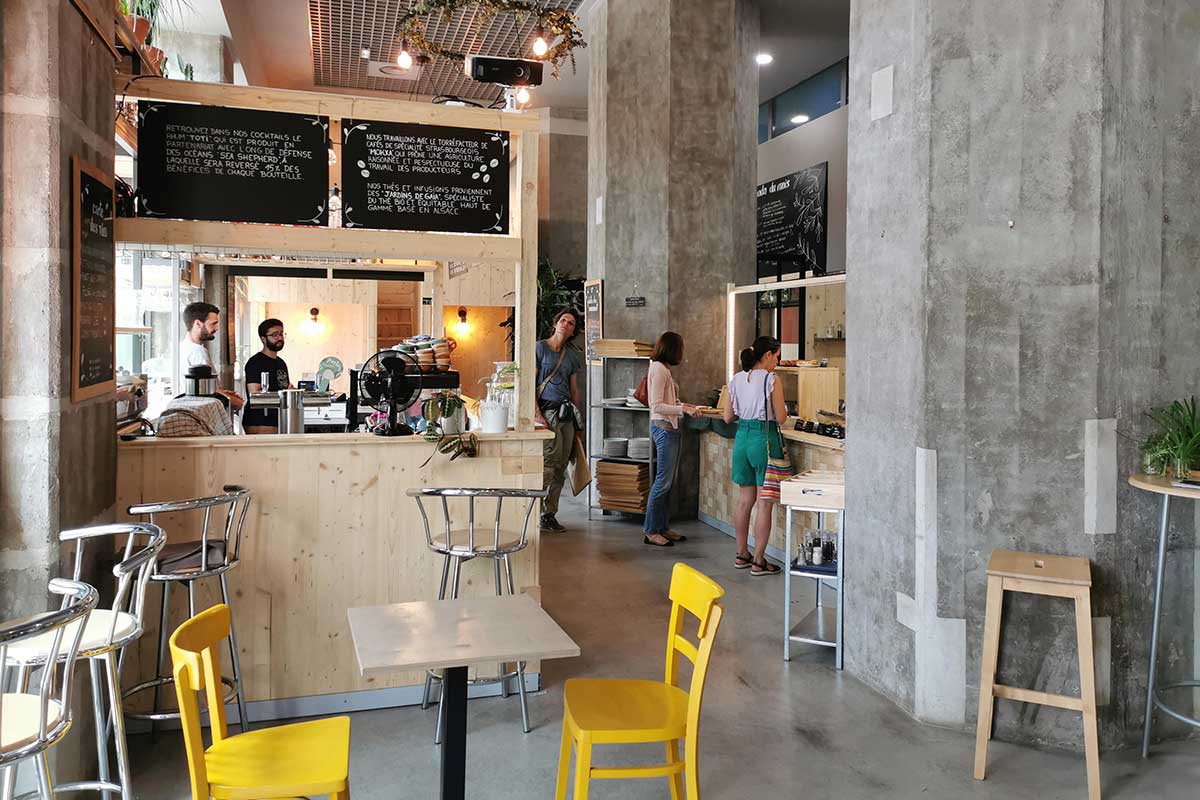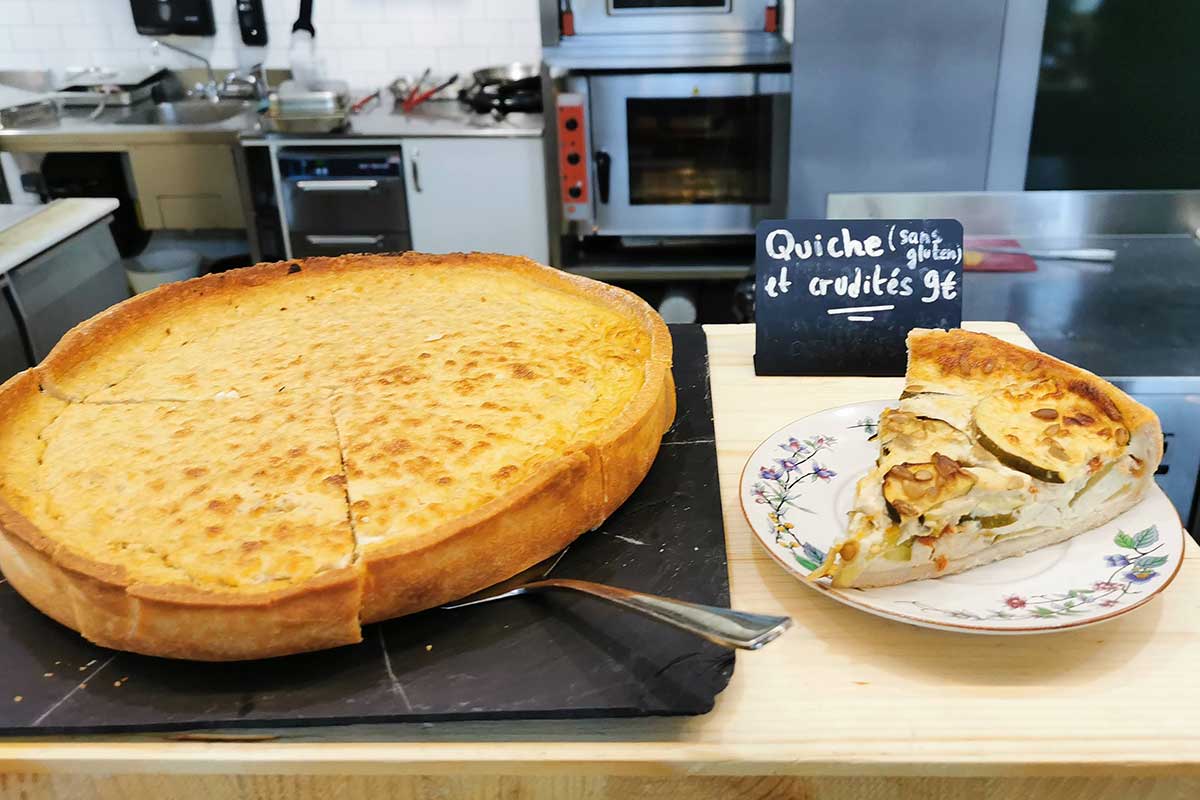 Mama Bubbele, gluten-free flammkuchen
The flammkuchen (or flammekueche, or flam' for friends) is one of the culinary specialties of Alsace. However, it is impossible to eat it when you can't eat gluten. Good news! There is an address in Strasbourg that offers delicious gluten-free flammkuchen on the spot and to take away: Mama Bubbele.
This restaurant on the Place du Corbeau specializes in flams. It is even known to be one of the best addresses in Strasbourg. Moreover, no need to reserve in advance: there are always some à la carte with all the options proposed in normal time. From the very traditional cream + bacon and onion base to the more original honey munster (vegetarian) or truffled brie (vegetarian).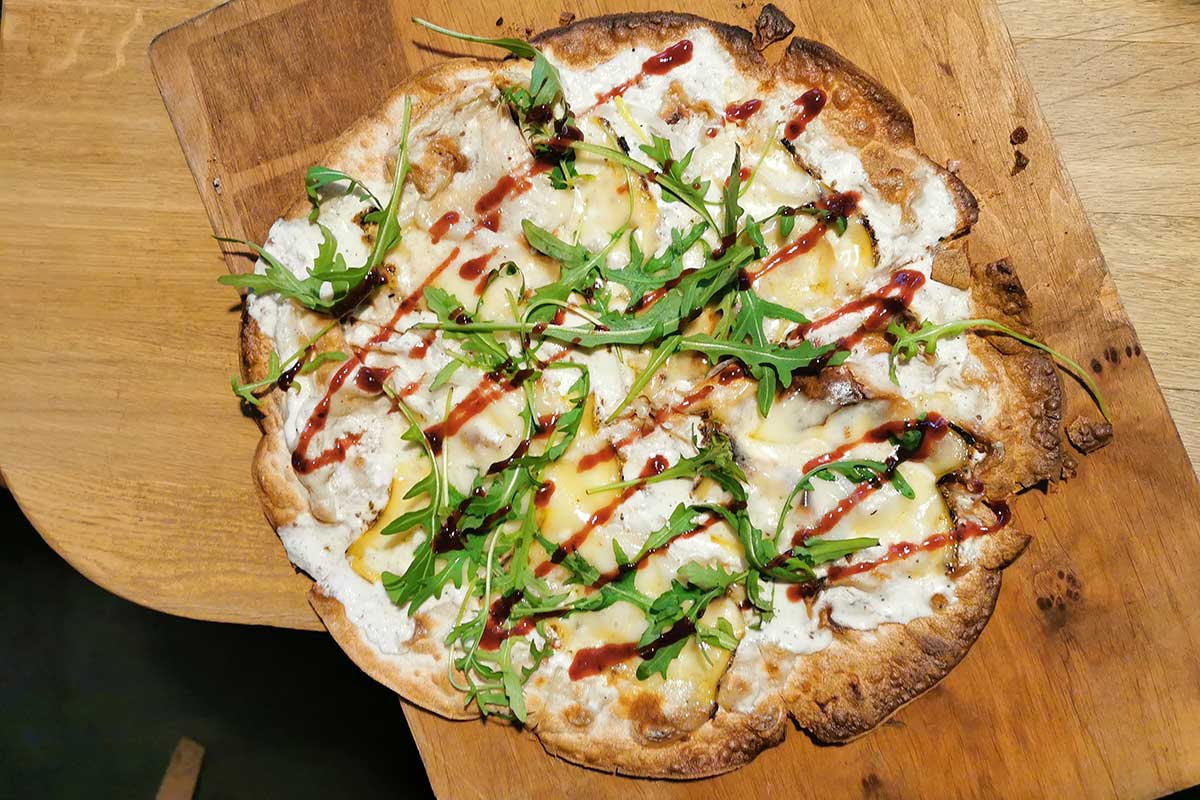 Venezolatino, Venezuelan street food
Venezuelan cuisine is quite naturally gluten-free because it's mostly corn-based. Venezolatino restaurant offers a delicious and affordable overview with arepas, a kind of sandwich made with corn flour. You can choose your meal among house specialties such as stewed beef or chicken, avocado, cheese or plantains. You'll even find vegan and vegetarian options.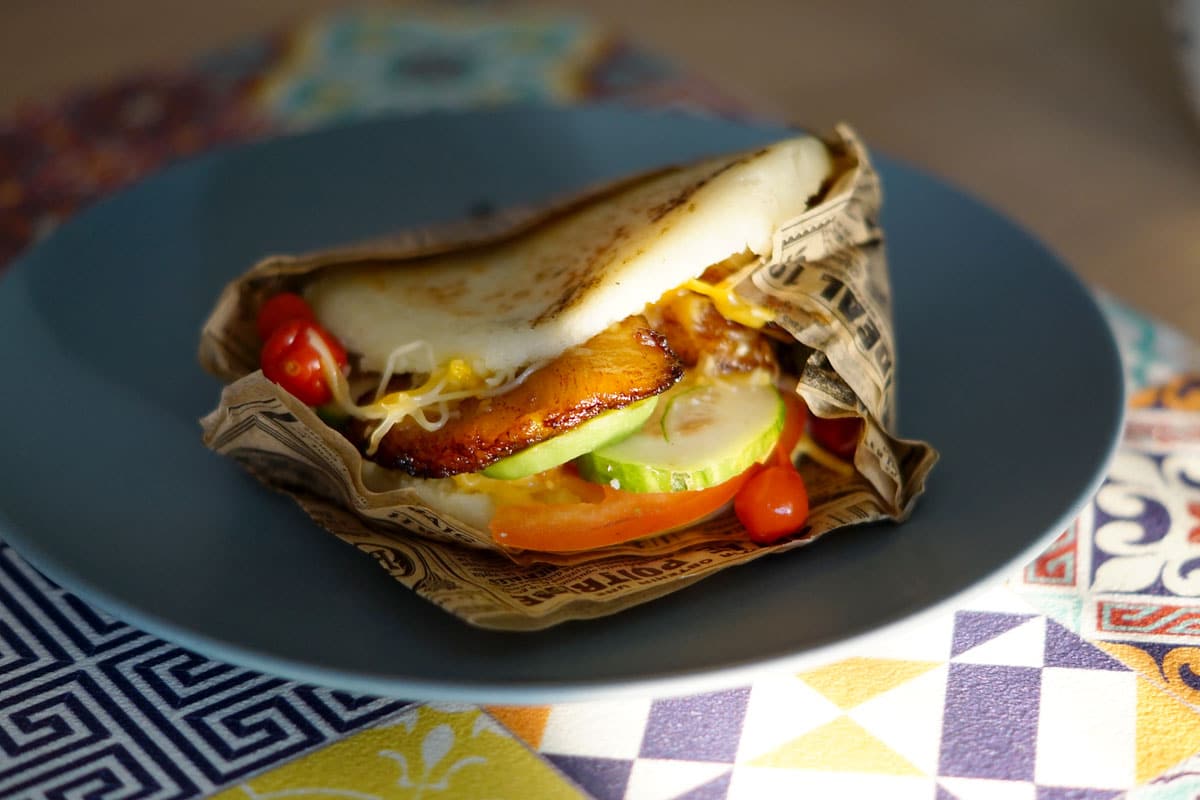 The Venezolatino menu is designed to be taken away or delivered to your door. And as the restaurant is located on rue de la 1ère Armée, not far from "Bourse" or Portes de l'Hôpital, there are plenty of nice places to sit down on sunny days. You can also choose to eat in.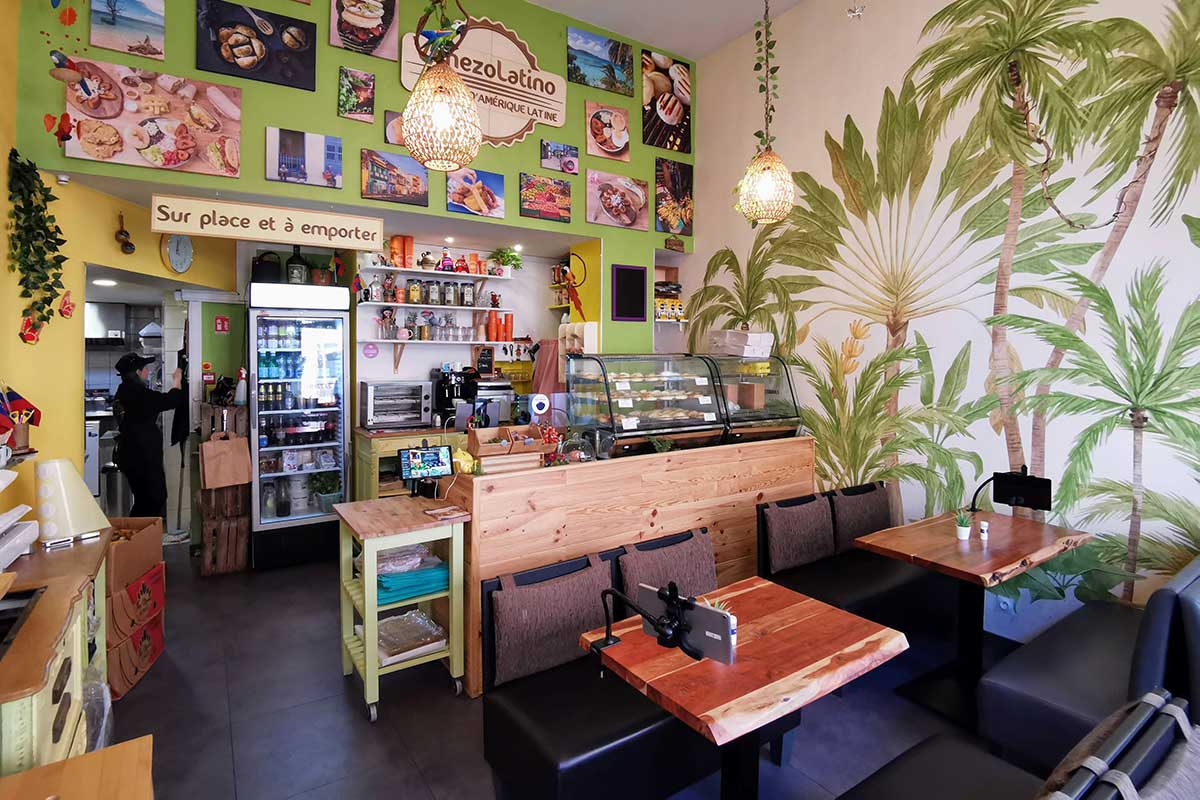 Bistrot et Chocolat, the vegetarian and gluten-free brunch at the bottom of the cathedral
At the bottom of the cathedral of Strasbourg, Bistrot et Chocolat is a vegetarian place not to be missed. Only sourced products and homemade food - sometimes vegan and gluten-free food - are served.
You can come for breakfast, lunch or have a coffee with a pastry for a snack in a friendly atmosphere. The 100% vegetarian menu is very complete and all allergens are clearly indicated. It's also one of the very few places to offer a vegan and gluten-free brunch. No reservation's possible. It's necessary to come, to announce itself and to wait for a table to be available. The rotation's rather fast.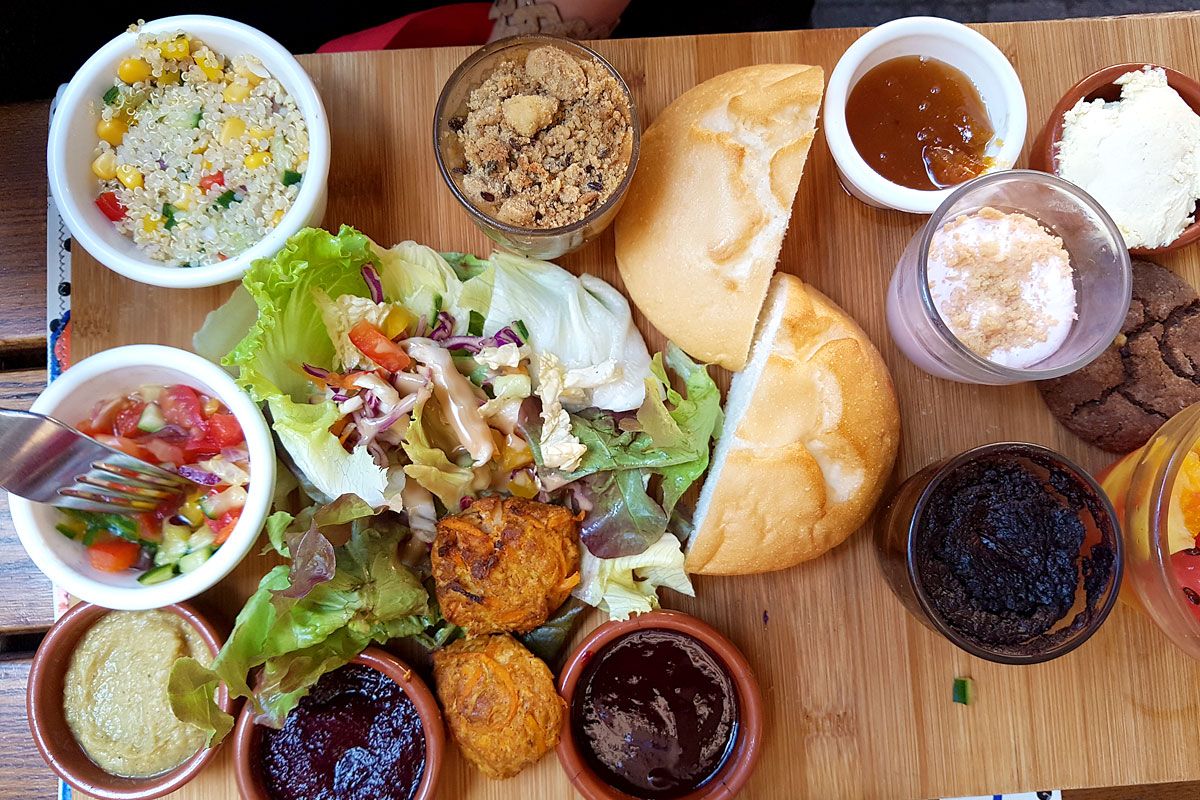 The Blue Flamingo, the floating restaurant that adapts to your diet
The Blue Flamingo is a floating restaurant that offers a limited menu of home-made dishes with fresh products. It's located near the Rivétoile shopping center. There are often naturally gluten-free dishes and the chef can easily adapt if you indicate your diet. In addition, the setting's really exceptional!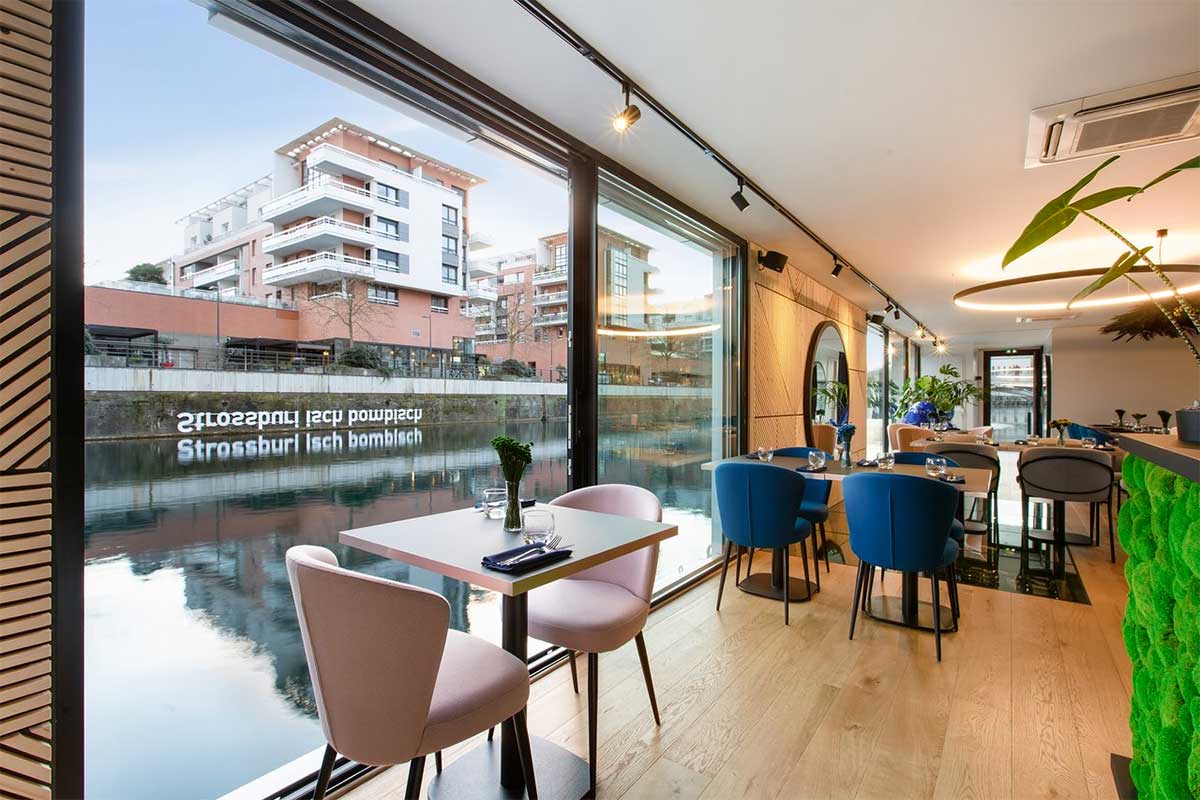 Le Boma, the flexitarian restaurant
Located downtown in the Rue du 22 Novembre, the BOMA restaurant claims to allow everyone to find their happiness. The menu's limited, made with fresh and seasonal products. Fish, meat, vegetarian, gluten-free or lactose-free... everything is perfectly indicated. It's rare and it feels good!
The Bischenberg Inn, 40 minutes away from Strasbourg
I'm taking you out of Strasbourg with an exceptional inn in the Forêt Noire. It's located only 40 minutes from Strasbourg. The Bischenberg offers a very complete menu of gluten-free dishes typical of the region, such as tartes flambees (one of which is vegetarian), meat with spätzle, pastries and ice creams... It's very yummy and the restaurant's labeled with the Deutschen Zöliakie Gesellschaft - which means German Coeliac Society.
In the summertime, the terrace's particularly pleasant with its splendid view of the Forêt Noire hills. In wintertime, a gluten-free Christmas market is organized on the first Sunday of Advent.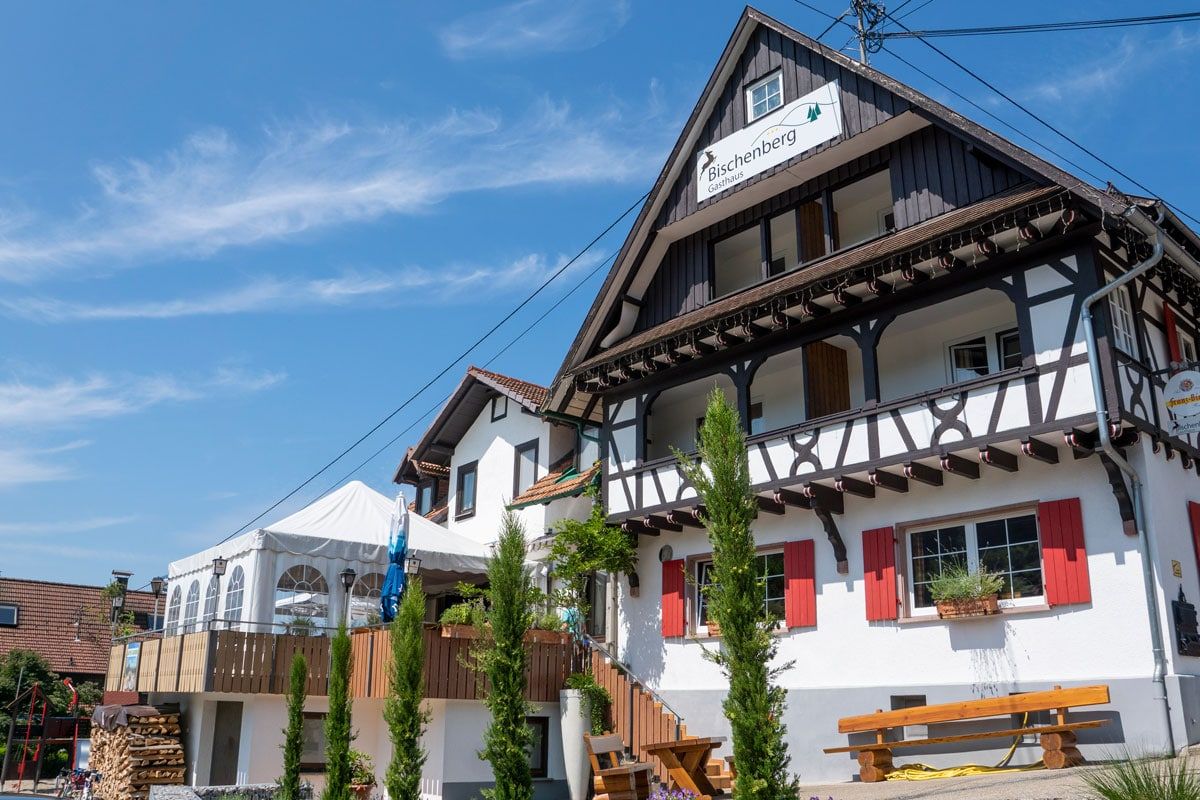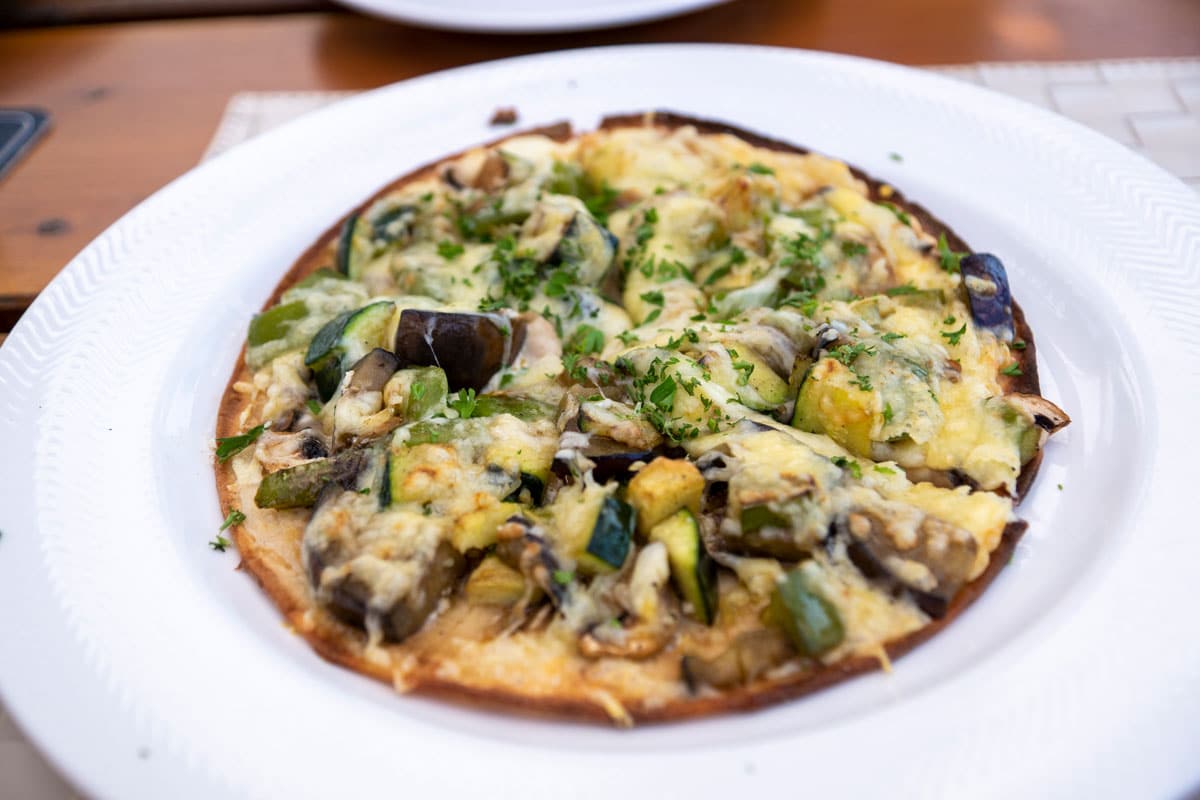 Other gluten free places to eat in Strasbourg
Le Velicious, the vegan restaurant
You'll find other places to eat gluten free in Strasbourg. Le Velicious is a vegan restaurant with a limited choice, especially in gluten-free dishes. There're hardly any desserts available. On the other hand, you'll be very well advised for the wine.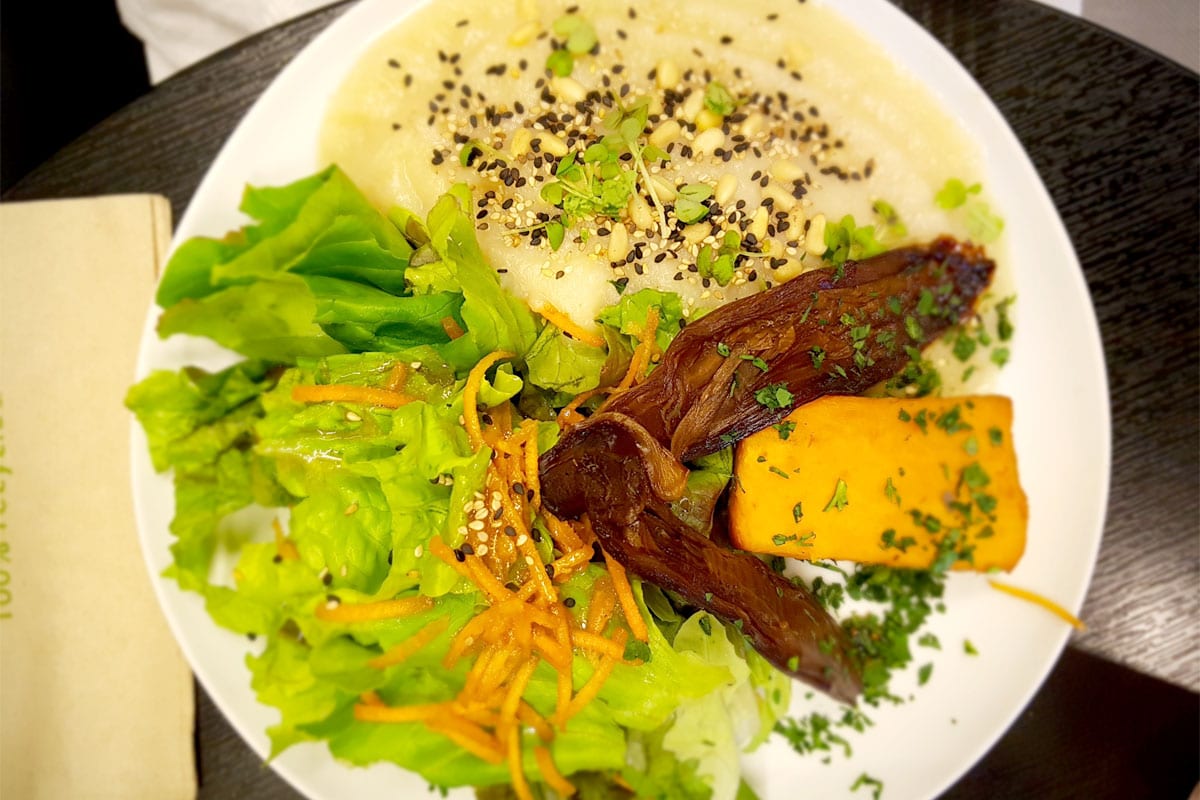 La boulangerie Au feu de bois
In the Neudorf, the bakery "Au feu de bois" offers gluten-free bread ordered 2 days in advance and in batches of 2. It's excellent, even yummier than the one at L'Eden Libre de Gluten. You can also personalize it according to your taste: with dried fruits, seeds, chocolate...
By the way, it's one of the gluten free bakeries in Strasbourg that I recommend to you!
What about you ? What are your favorite gluten free places to eat in Strasbourg?