Strasbourg is a wonderful city to visit in winter. Between its Christmas markets, historic monuments, museums and outdoor activities, there's plenty to keep you busy when it's cold, gray or snowing.
If you're planning a trip in Alsace, discover in my article 10 ideas for visiting Strasbourg in winter and making the most of your stay.
Why you have to visit Strasbourg in winter
Strasbourg has a reputation for cold, gray weather in winter. If that sounds daunting, let me reassure you: it's not always the case! And if it starts to snow or to freeze, it adds a special magic to this beautiful city. Imagine the snow-covered cobblestone streets and half-timbered houses of La Petite France, or the frozen canals - it's just magnificent!
And December is a particularly magical month: it's the month of Christmas markets in Strasbourg! You'll love strolling down the aisles between the chalets, discovering handcrafted products and Christmas decorations, enjoying the Christmas lights and, of course, tasting traditional Alsatian cuisine.
In February, for St. Valentine's Day, the city celebrates "Strasbourg mon amour" with romantic activities, and the Strasbourg Carnival is also a popular event that livens up the city streets.
And that's not all! There are also unusual activities such as fondue under an igloo! Yes, you can. And there's plenty to do inside, including museums, shops, restaurants and bars. So visiting Strasbourg in winter can be an interesting option after all, and I'd like to give you a few ideas to liven up your stay.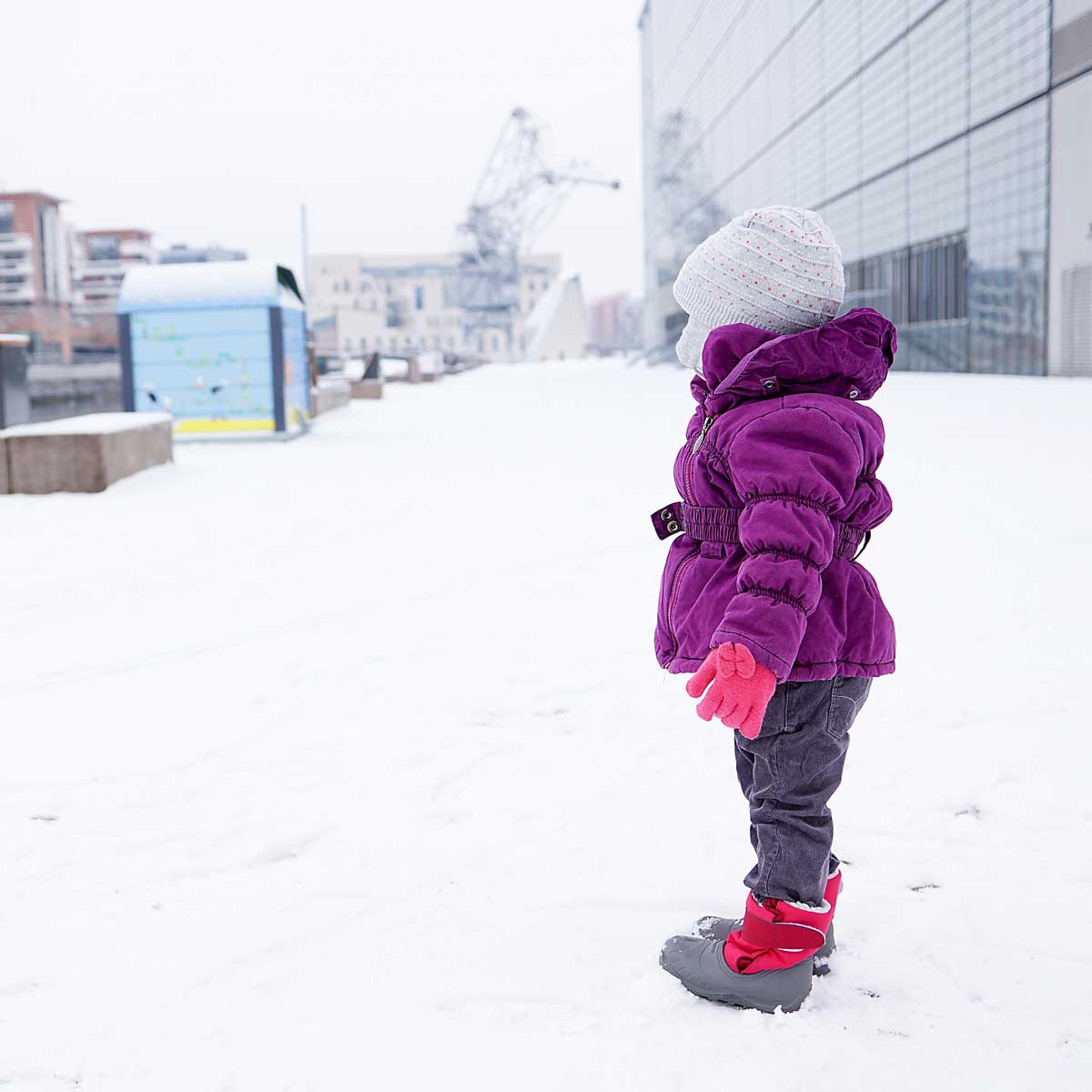 What to do in winter in Strasbourg?
Enjoying Strasbourg's Christmas markets
"Strasbourg's Christmas market" is often mentioned. In fact, there are 12 themed markets scattered across the Grand-Île: they can be found in Place Broglie, Place de la Cathédrale, Place du Château, Place Kléber, Place du Marché-aux-Poissons, Place du Temple Neuf, Place Saint-Thomas, Place Benjamin Zix, on the terrace of the Palais Rohan and in Rue Gutenberg and Rue des Hallebardes. More than 300 wooden chalets are on hand for you to enjoy and buy souvenirs of this Alsatian Christmas.
I advise you to visit Strasbourg's Christmas markets early in the morning to avoid the crowds. Then return at dusk to admire the decorations and all the beautiful Christmas lights.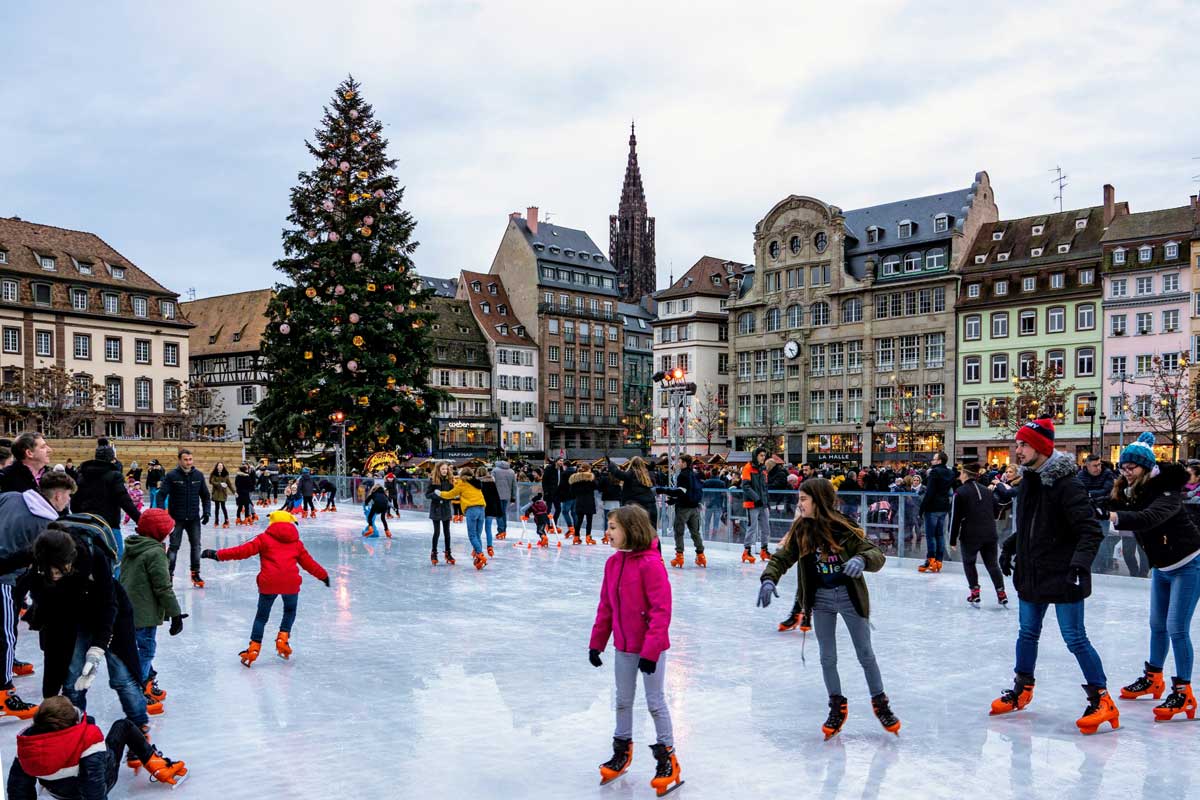 Party and dress up at Carnaval
Strasbourg's Carnaval is a not-to-be-missed annual event in March, featuring colorful floats, fun costumes and confetti. The Grande Cavalcade kicks off at 2:11pm on the Place de l'Etoile, and is the perfect opportunity to dress up and have some family fun along the way. This event marks the arrival of spring and is a great opportunity to discover the city's culture and traditions.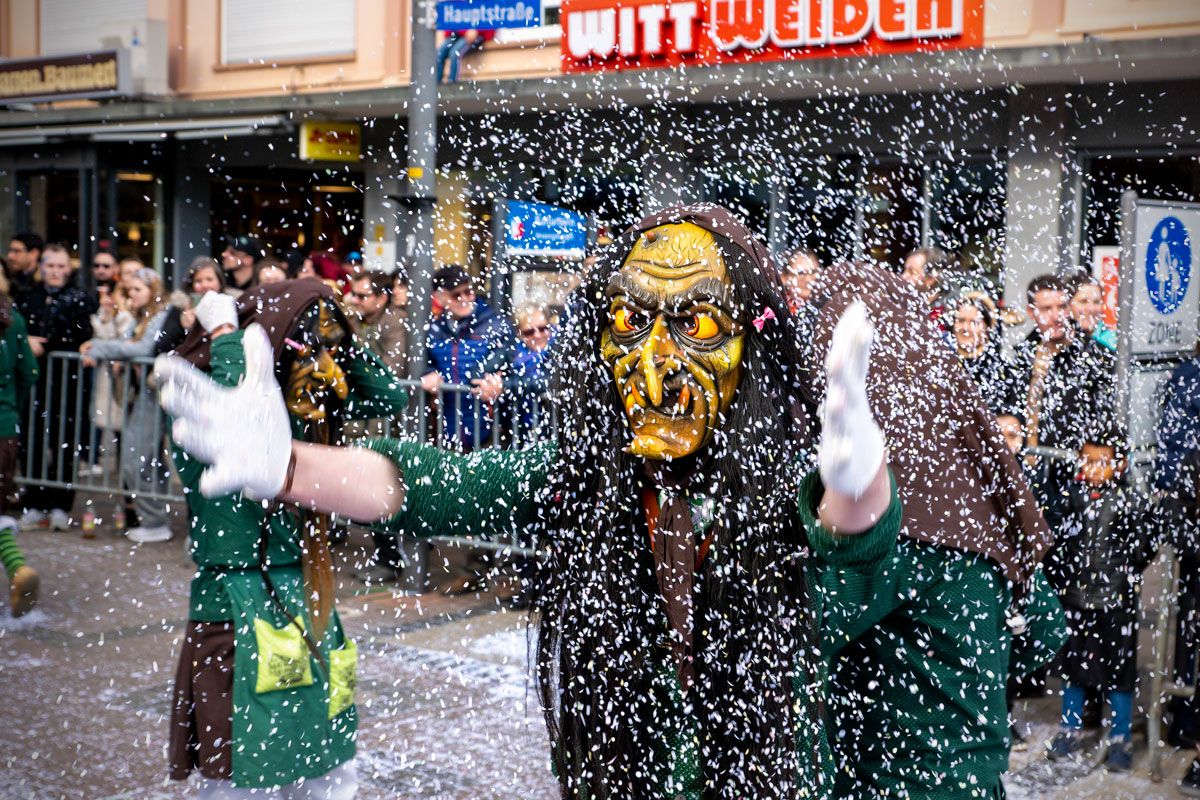 Enjoy the botanical garden's tropical greenhouse
The tropical greenhouse at Strasbourg's Botanical Gardens is a surprising and little-known place to escape to the heart of the city. As soon as you enter the greenhouse, you feel as if you've left Strasbourg for a distant trip to the tropics. The air is warm and humid, with temperatures of at least 25 degrees all year round.
I highly recommend going in winter, when the outside temperature is negative: it makes the experience all the more striking. You'll find palms, banana trees, carnivorous plants and my favorite plant: the sensitive-leaf mimosa. This very modest plant doesn't like to be touched, and its leaves fold up at the slightest touch.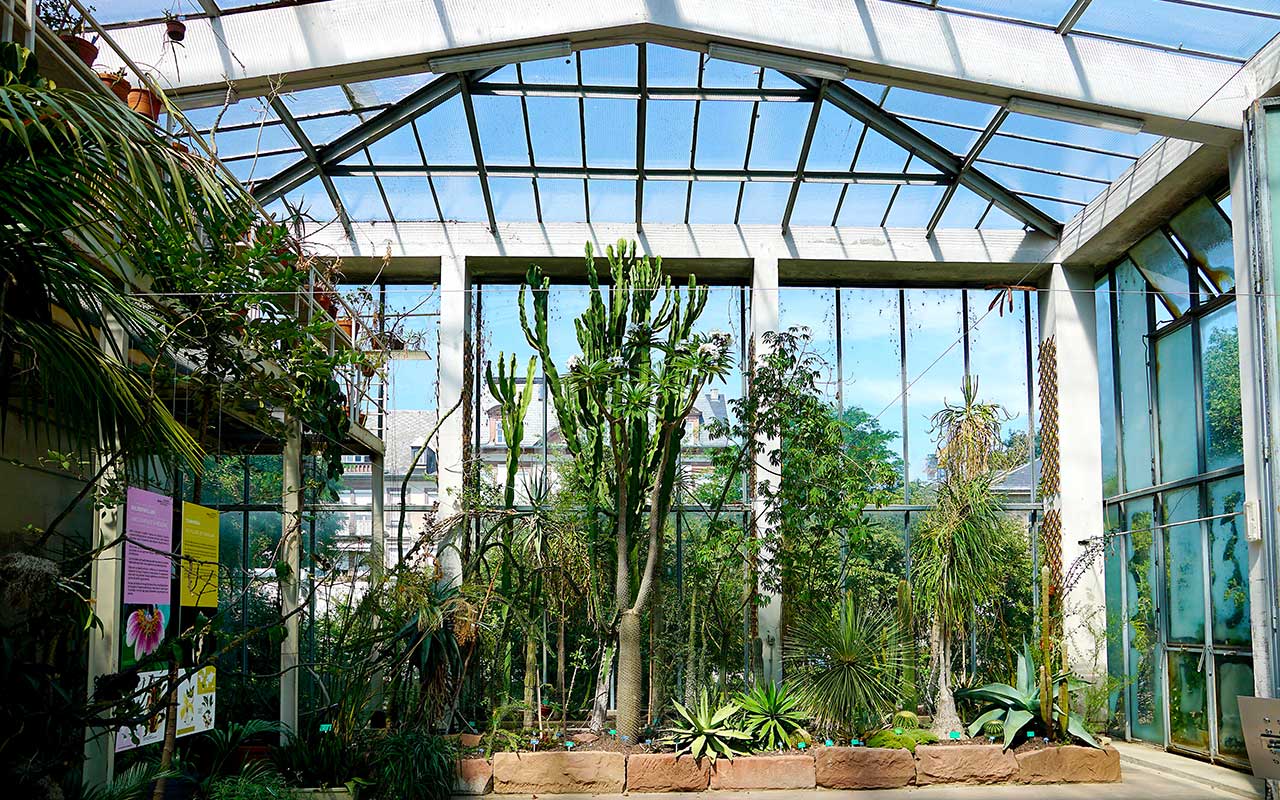 Taking a Nordic bath
The municipal baths, the Wacken swimming pool and the Hautepierre swimming pool all have Nordic pools, making them pleasant options for winter bathing. The recently renovated Bains Municipaux boasts a magnificent Nordic pool and outdoor sauna, with a breathtaking view of the cathedral.
The Wacken swimming pool, located in the European quarter, is transformed into a heated Nordic pool in winter, offering an open-air swimming experience with a view of the European Parliament even in the coldest months.
And if you prefer to take some time for yourself, there are a number of wellness spas in and around Strasbourg.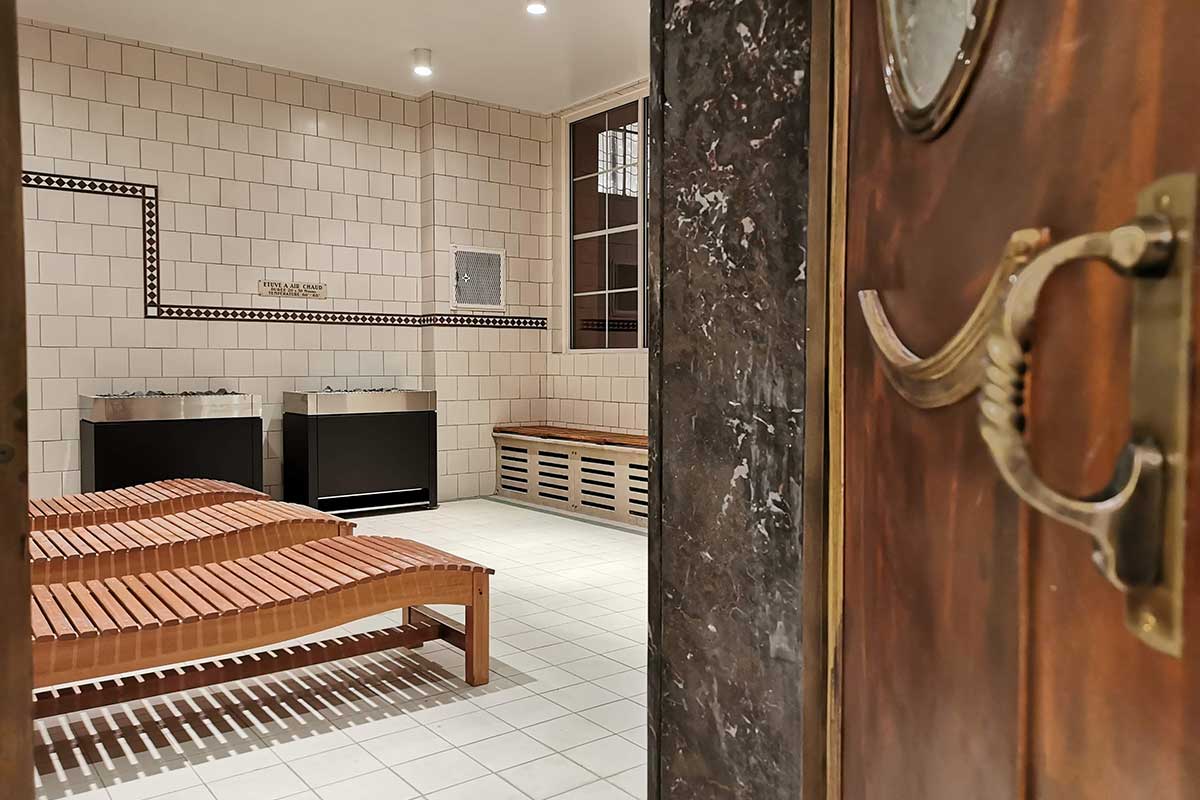 Discover Strasbourg's museums
Strasbourg is home to many museums covering a wide range of subjects, from World War II to vodou and Alsatian art. I particularly recommend the Musée Historique de la Ville de Strasbourg to discover the history of the city, the Museum of Modern and Contemporary Art in Strasbourg, the Musée Tomi Ungerer to discover the works of the famous Strasbourg artist who died in 2019, and the unusual experience of the Vodou museum in a former water tower.
Note that Strasbourg's museums are free on the first Sunday of the month, even in winter. So there's no excuse not to escape the gloom in these magnificent venues.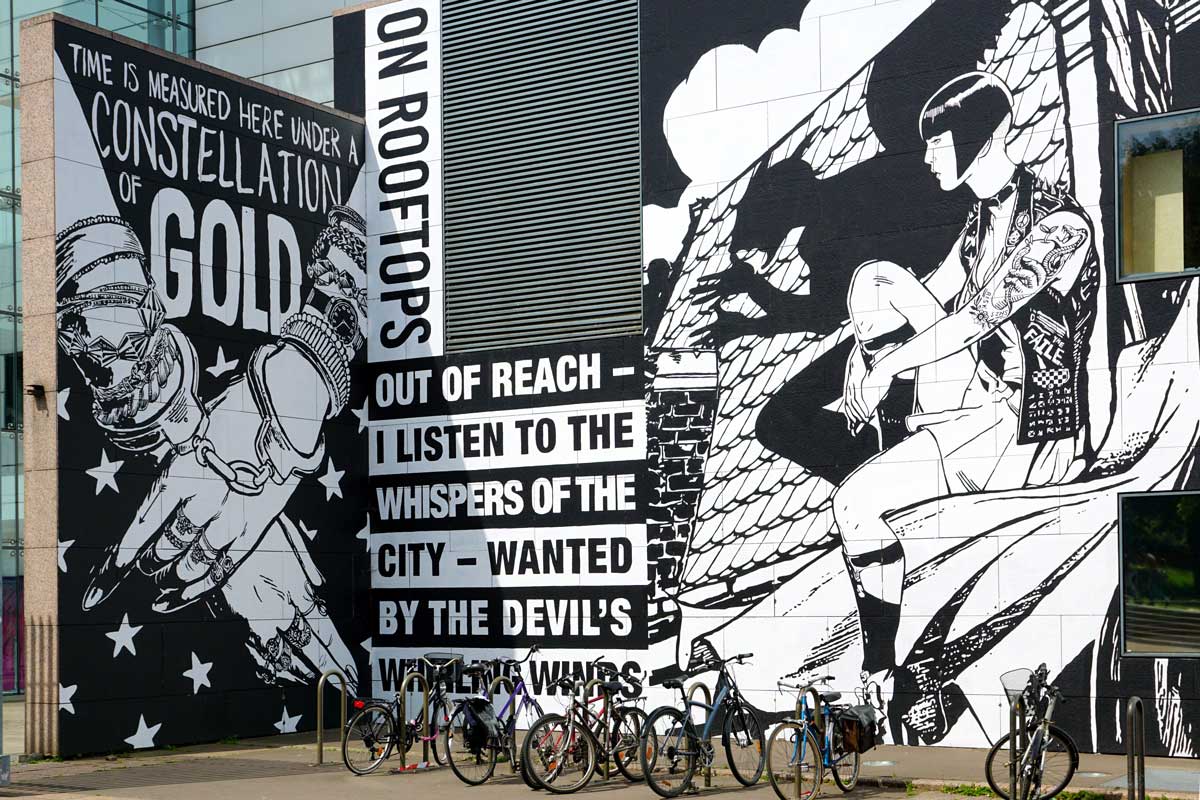 Eat in a good restaurant (it's better if it's Alsatian!)
In winter, I like to be a bon vivant with good food! And that's perfect because there are plenty of good restaurants to choose from in Strasbourg: gourmet, Alsatian, Italian, Indian, Asian, etc.
If you're lucky enough to visit Strasbourg, particularly in winter, here are my best restaurants in Strasbourg to enjoy yourself:
Le Kammerzell, for the unmissable fish sauerkraut
Le Tire-Bouchon, the typical Alsatian restaurant near the Cathedral
La Brasserie du Tigre, Mamma Bubbele, La Binchstub... to eat the best tarte flambees in Strasbourg! (still trying to pick my favourite...)
The Blue Flamingo, a unusual floating restaurant in Rivétoile
Pop & Lino, the nice and kid-friendly Italian restaurant
Michelin starred restaurants: The Buerehiesel (Parc de l'Orangerie) or Le Crocodile (next to Place Kléber)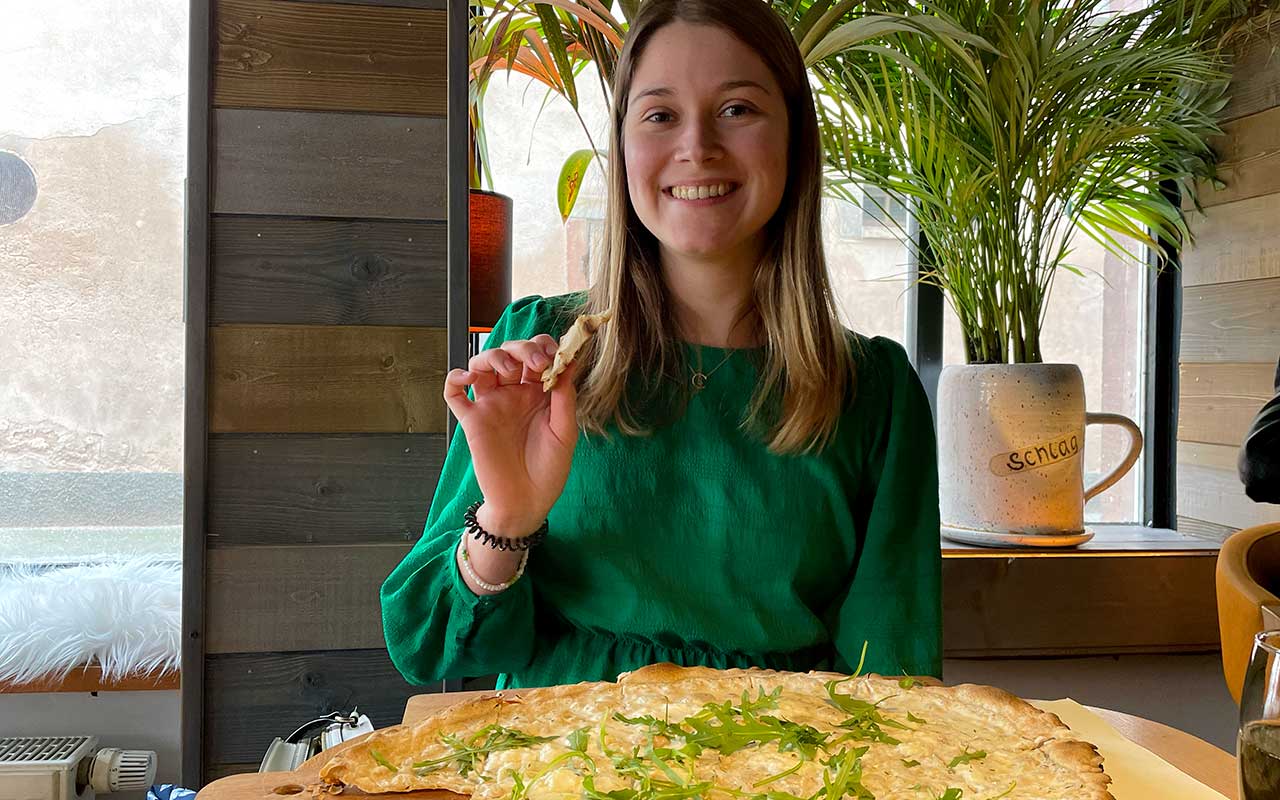 Fondue in an igloo
Yes, you read that right. That's the crazy idea that Captain Bretzel - a famous electric boat rental service in Strasbourg - are proposing in winter.
Head to their home port in the Danube eco-neighborhood for a real Savoyard fondue served with 4 cheeses: Tomme de Savoie, Emmental Label Rouge, Comté AOP and Beaufort AOP. Those with a sweet tooth won't be left out either, as there's chocolate fondue for dessert, with fresh fruit dipped in it and marshmallow... AS MUCH AS YOU LIKE!
Please note, however, that groups of 7 to 10 persons are required, and reservations are mandatory.
📍
Location: 49 Quai des Alpes Tram C et E Arret, Pont Winston Churchill, 67000 Strasbourg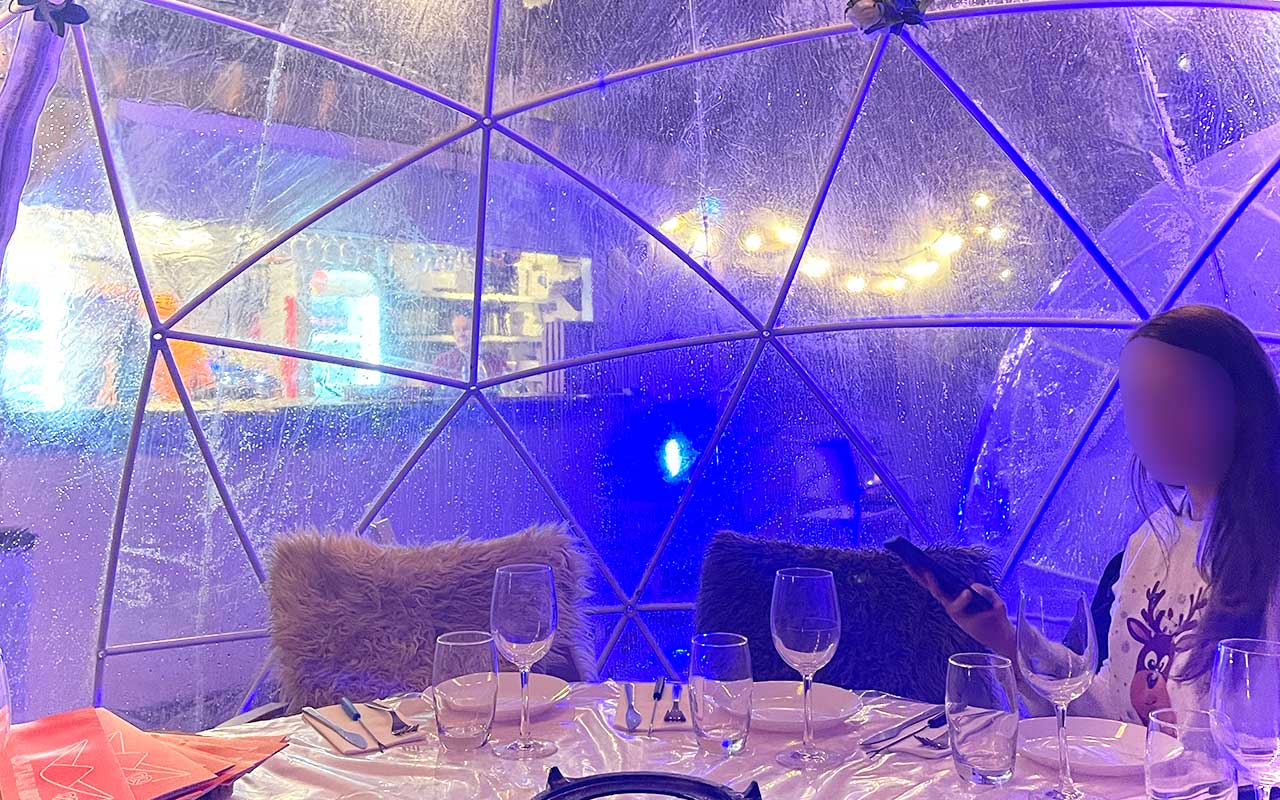 Another original option is to eat fondue at the restaurant La Cloche à fromage.
Warm up in a tea room or café
When it's cold in Strasbourg, I feel like drinking a hot chocolate or a good cappuccino. And that's just as well, because Strasbourg has plenty of good places to go for winter comfort. If you're as greedy as I am, I recommend accompanying your hot drink with an excellent pastry.
Here's my selection of Strasbourg coffee shops and tearooms, which encourage the use of local produce. Run by people who are passionate about what they do, I'm sure you'll love these good addresses:
La micro-brûlerie Omnino, for good local roasted coffee with real aromatic coffee flavours (and very good cannelés);
Ôjourd'hui, a cosy place to relax and enjoy excellent hot drinks and high quality pastries made by passionates;
Chez Tonton Gâteau, for specialty teas and coffees from Strasbourg roasters... and delicious individual pastries (especially Le Galet, with Tonka bean chantilly, creamy caramel, hazelnut dacquoise and cocoa crumble... A delight!);
Bistrot & Chocolat, for delicious hot chocolates with homemade pastries. It's a very good vegetarian address with very interesting gluten free options.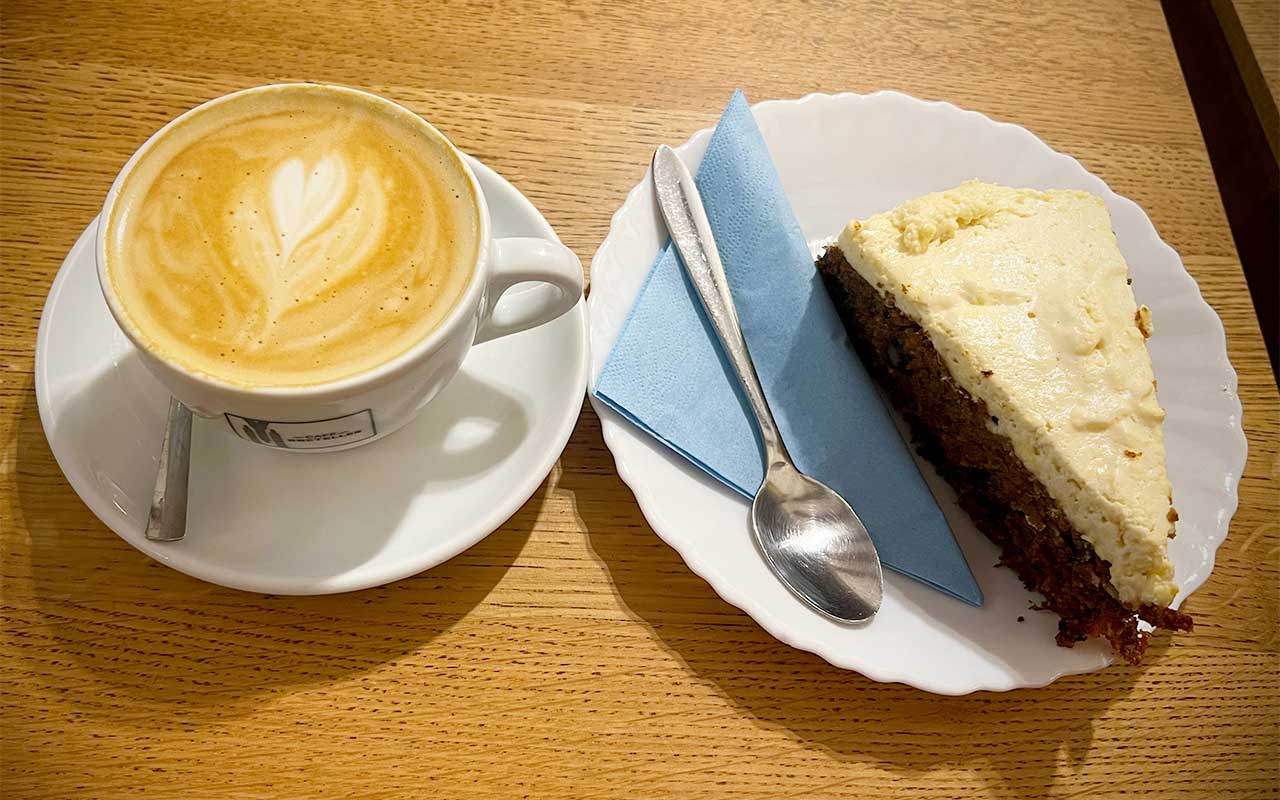 Window-shopping, or "faire du lèche-vitrines"
In France, we love to "faire du lèche-vitrines" (literally, "licking windows") while strolling the streets on Saturdays: this activity covers everything from going to large clothing stores to bookshops and even going to bakeries!
So, if you're coming to Strasbourg in winter, you should put yourself in the shoes of a Frenchie and just go for it!
Here are a few stores I'd recommend for your lèche-vitrine afternoon:
Galeries Lafayette in Rue du 22 Novembre: they're beautifully decorated for Christmas, both inside and on the illuminated front. This store perfectly reflects Strasbourg's Christmas spirit.
Small independent designer boutiques in Strasbourg, such as Alsatrucs (a 100% local store selling Alsace souvenirs) or les Boutiques Curieux et Curieuse (original objects created by independent brands from Strasbourg, France and Portugal).
Having a brunch
When it's cold, all I want to do is warm up and do something cocooning. Brunch is the ideal activity! There are many great breakfast spots in Strasbourg that offer a variety of delicious options to start your day off right. They're all very cosy places, you'll love going there!
Bistrot et Chocolat, a 100% vegetarian and gluten-free brunch in Strasbourg
Tonton Gâteau, one of my best breakfast spots!
Coffee Stub, a cosy coffee shop
BCBG café, one of the best brunch spots 15-minute walk from city center, in Neudorf district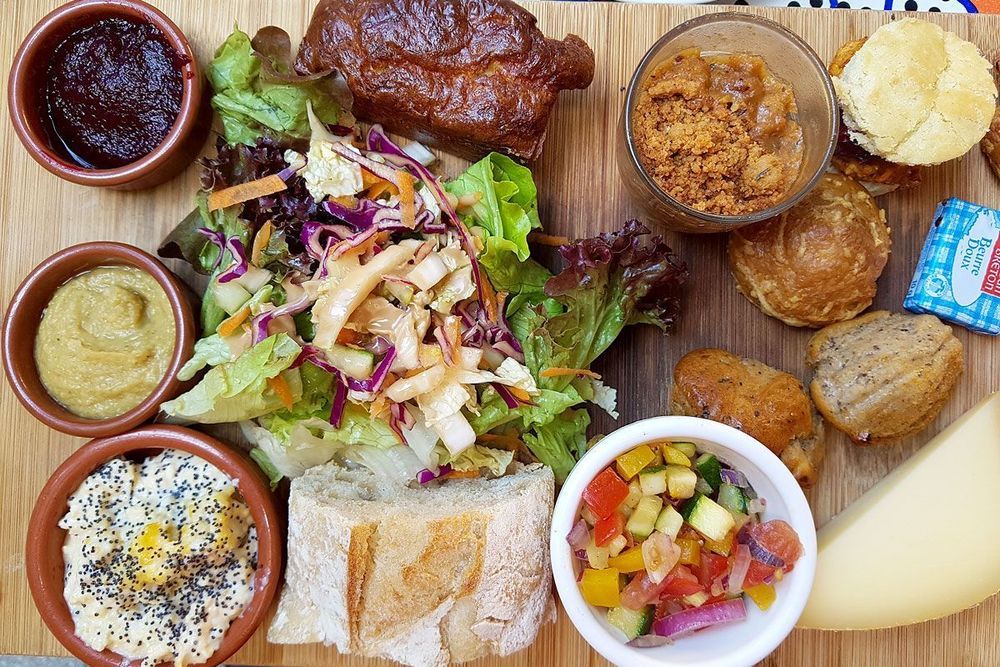 A boat tour in Strasbourg
In the winter season, I recommend discovering Strasbourg's Grande-Île by night. There's nothing better than taking a boat tour with Batorama, to admire the illuminated city by night along the river Ill. Batorama also offers Christmas storytelling on board its cruises.
You'll be able to discover Strasbourg at Christmas from a different perspective, while traveling back in time to the magic of Christmas. Perfect for kids!
On-board commentaries are in 12 languages for adults and 4 for children. They are broadcast by a system integrated into the boats.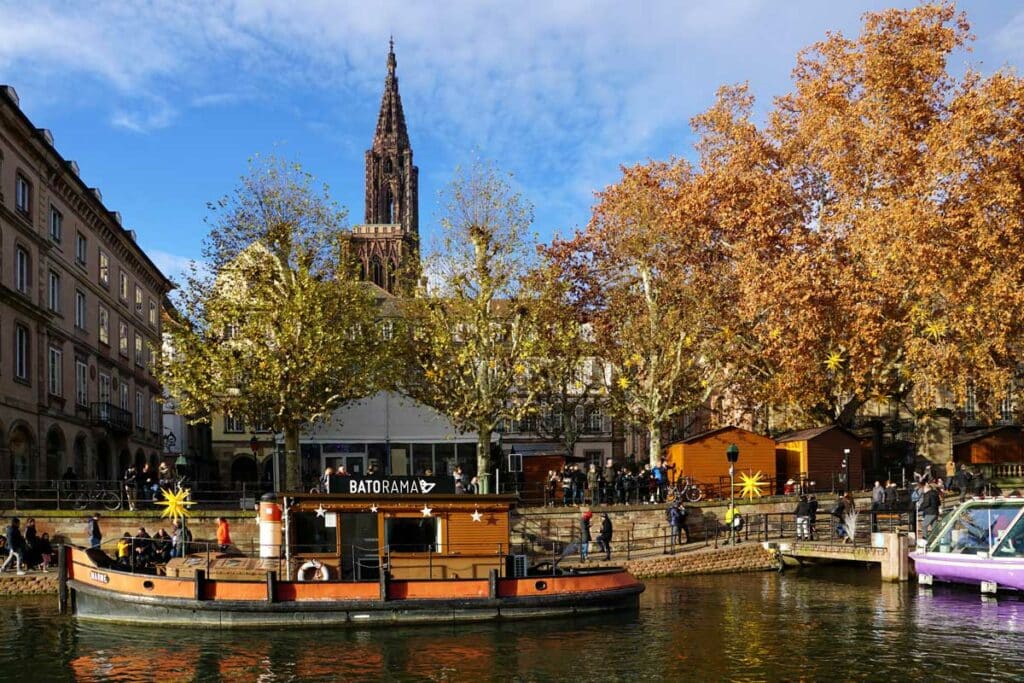 How to visit Alsace in winter?
During winter season in Strasbourg, I recommend taking the streetcar or walking... and avoiding bicycles during the Christmas market! What's more, there are various streetcar tickets available to make the most of your stay in Strasbourg:
24H TRIO: Ticket valid for 1 to 3 people for an unlimited number of journeys within the Strasbourg Eurometropolis and to Kehl on streetcar line D within 24 hours of first validation. 10.40 € on Billet Sans Contact (BSC) 1st purchase
PASS 3 JOURS: Ticket valid for 3 calendar days for 1 person, from the 1st day of validation, for an unlimited number of journeys within the Eurométropole de Strasbourg and to Kehl on streetcar line D. 10.40 € on Billet Sans Contact (BSC) 1st purchase
And if you're planning to visit other Christmas markets in Alsace (such as Colmar, Obernai, Kaysersberg,...). The CTS
ALSA+, either for a group of 2 to 5 people, or for a single person: for an unlimited number of journeys on bus-tram-bus and TER lines (train) within the Strasbourg Eurometropolis, including to the airport, and to Kehl.